Wonalancet/Hibbard, March 14, 2009
Preview
We'll be hiking the Wonalancet Range Trail, which runs along a southeast ridge of Mount Passaconaway known as the Wonalancet Range. The trail is mostly sidehill with an occasional steep uphill. There's still plenty of snow up there, so snowshoes, and/or other types of traction are necessary. Depending on what the weather brings this week, some sections may be icy.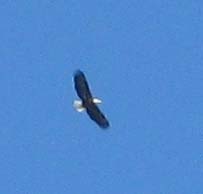 From Old Mast Road, the Wonalancet Range Trail turns left and runs up the valley of Spring Brook before turning left and climbing more steeply up Mount Wonalancet. At 1.3 miles, the Short Cut leaves right to rejoin after 0.4 mile at the Wonalancet/Hibbard col.

The Short Cut is a 0.4-mile bypass of the summit of Mount Wonalancet. We'll go out to the summit of Mount Wonalancet (0.4-mile from Short Cut) and decide whether or not to continue on to Mount Hibbard (another 0.8 mile one-way). If we continue... from the summit of Mount Wonalancet the trail descends into a shallow col where the Short Cut rejoins, then climbs more steeply up Mount Hibbard. Mount Hibbard is a flattish ridge with a high point at each end.

This is an "up-and-back" (not a loop) hike, total distance 5.4 miles to Mount Hibbard, 4.6 miles total to Wonalancet.

Mt. Wonalancet - 2780'
Mt. Hibbard - 2910'
Elevation gain: About 1750' to Mt. Hibbard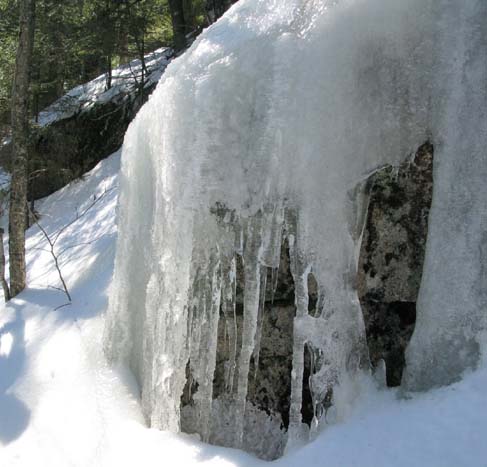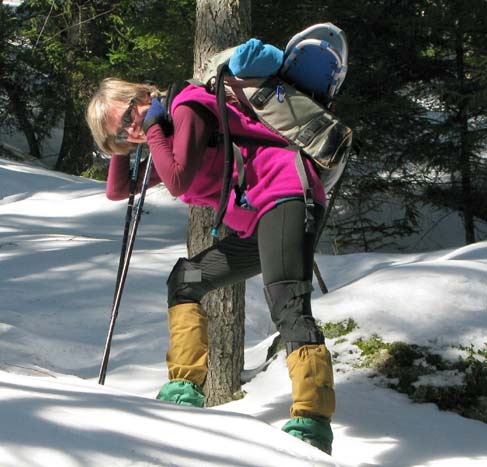 NEXT HIKE: March 14, Wonalancet/Hibbard
MEETING SPOTS: Exit 14 off of Rt. 93, LL Bean/Hannaford side, Concord at 8:15 a.m.
Mobile station in Wakefield (junction of Rt. 16 and 109) at 8:45 a.m.
Ferncroft Road Trailhead at 10:00 a.m
TRAILHEAD: Follow Rt. 113-A to Wonalancet Village, 6.6 miles west from Rt. 113 in the center of Tamworth or 6.7 miles east from Rt. 113 north of Center Sandwich. Where the road makes a 90-degree turn, turn north onto Ferncroft Road. Follow this dirt road 0.5 mile to a sign for hiker parking and then go right 0.1 mile to the parking lot and signboard.
HIKE LEADER: Sally Nickerson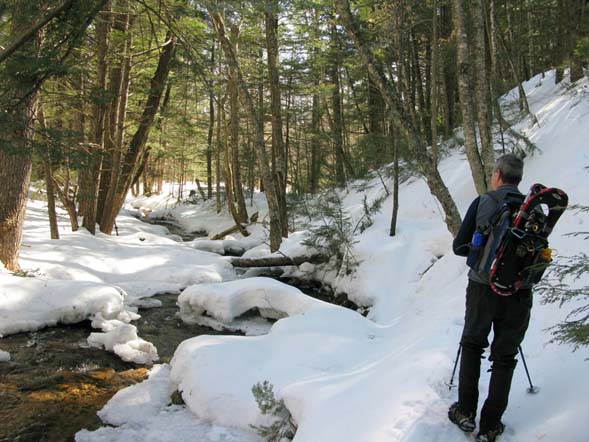 Trail Report
On Saturday, March 14th six dayhikers met at the Ferncroft Road trailhead to hike up Mount Wonalancet and Mount Hibbard. Before heading up the trail at around 10 a.m., there was much discussion about the best kind of traction to wear for the icy conditions. We settled on a little of everything: Microspikes, Stabilicers, crampons, snowshoes, and eventually bareboots for some.

The weather was spectacular -- not a cloud in the sky all day, with moderate temps and a light wind. Shortly after getting on the trail, the climbing started and continued to get steeper the higher we went. Apparently the Wonalancet Range Trail doesn't get much traffic. It hadn't been broken out since the rain and freeze earlier in the week, making for difficult travel in places. Without the blazes on the trees to follow, we might have lost the trail entirely several times.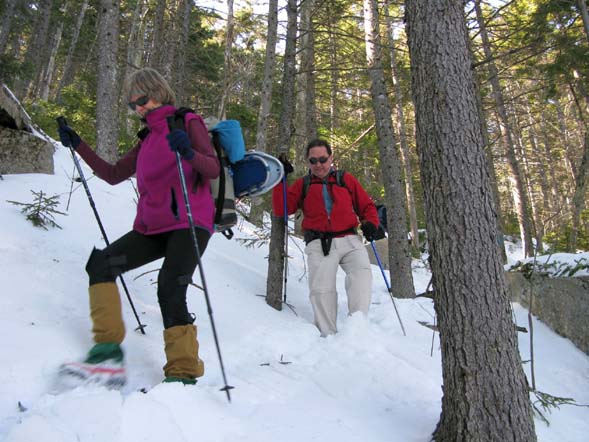 We followed the "Short Cut" trail, hoping to avoid the icy ledges on Wonalancet. Punching our way up through the icy crust we still managed to be confronted with a steep wall of ice that required some navigating to get around. We all decided that the club that maintains this trail (Wonalancet Outdoor Club) must have a different meaning for the phrase "gradual climb" and maybe a different measuring system for miles, as well. We reached the saddle between Wonalancet and Hibbard and took a much needed lunch break. After lunch we decided to forego Wonalancet and head up Hibbard for the view.

Once at the summit of Hibbard, the view of "the Bowl" between Mounts Whiteface and Passaconaway was impressive. While standing, sitting, and/or lying there we heard and watched a raven circling around. Then we spied a much larger bird coming up out of the valley below. We watched as it soared higher and higher, riding on the thermals. We were all trying to figure out what kind of a bird it could be, when, almost simultaneously, several of us said, "Bald Eagle!" With its bright white tail and head and dark wings, what else could it be? The photos confirmed it. It was a special moment to be sure.

The trip down went much quicker -- the trail had been broken out nicely, having been tramped on by six people. We reached the very muddy parking lot at around 2:45 p.m. and had 45-degree temps.

Everyone went their separate ways afterwards -- it's still a bit early for the ice cream shops to be open.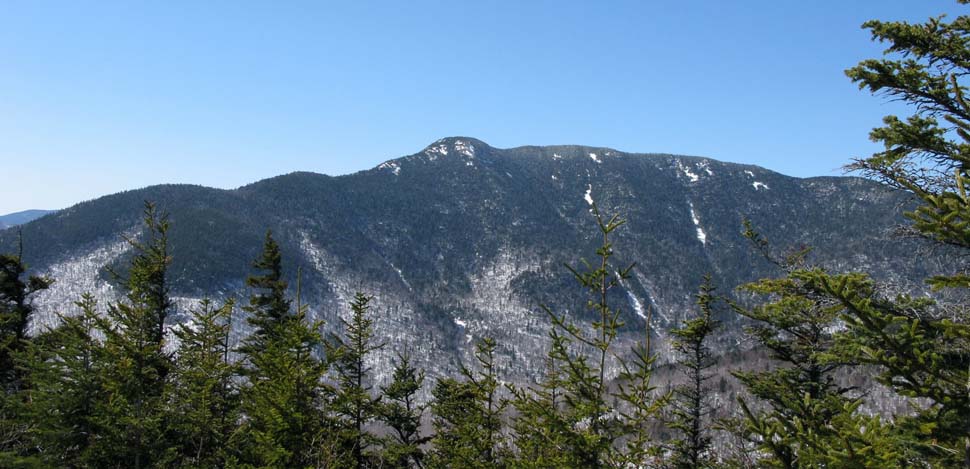 More Photos
Members may see more photos in our online photo album.