Mount Sunapee, April 26, 2008
Preview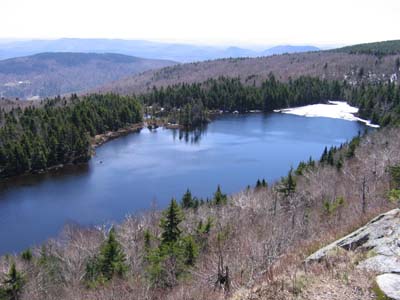 The hike on April 26 will take us up the back side of Mount Sunapee, following the Andrew Brook Trail. This is a distance of 6.5 miles round trip with an elevation gain of 1400 feet - moderate difficulty.

The hike features a nice forested trail, nice views of Lake Solitude, and views of Lake Sunapee from the summit. Reaching the summit involves walking up the last short stretch on one of the ski trails.

Hopefully there will be enough snow melt to allow us up this piece without requiring stabilicers or microspikes. It might be wise to have them in our packs just in case.

The trail is in the State Park and I believe dogs are not a problem - I've seen them on the trail on prior hikes.

The trailhead has limited parking, so car pooling is recommended.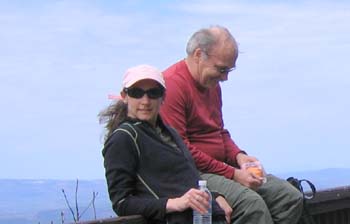 NEXT HIKE: April 26, Mount Sunapee
MEETING SPOTS: Raymond Post Office parking lot at 8:30 a.m.
Park and Ride, exit 2 off of Rt. 89 at 9:15 a.m.
Andrew Brook Trailhead at 10:00 a.m
TRAILHEAD: Take Route 103 West from I-89, turn left onto Mountain Road which is 5.3 miles from the Route 114 junction. Trailhead is 1.2 miles along Mountain Road, just before a small bridge.
HIKE LEADER: Charlie Raeburn
Trail Report
On a fairly sunny Saturday, 14 hikers and 3 dogs went to the summit of Mount Sunapee. Five people arrived early and started out 10 minutes ahead while the remainder donned boots, etc.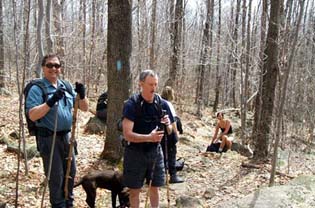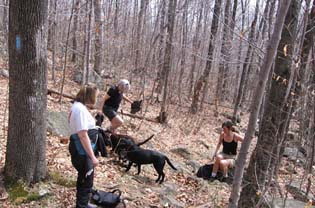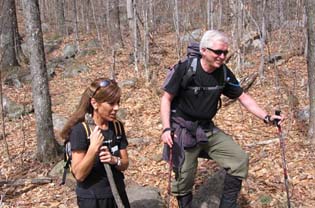 The trail was mostly snow free, although quite muddy in spots. The views from the Lake Solitude ledge and the deck of the Mount Sunapee summit restaurant were quite spectacular. Unfortunately the restaurant was closed, so no hamburgers and beer for this crowd. We did see a snowboarder who had hiked up and was preparing to "slide" the ski slopes as we were leaving the summit.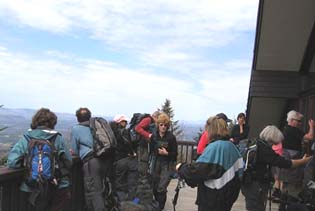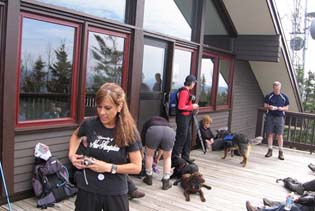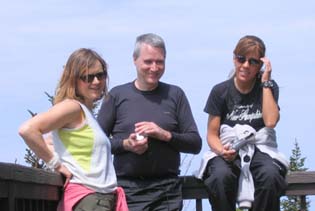 Okay, so no beer and hamburgers up topů how about some ice cream after our hike? Using cell phones and our deep memory banks, we searched for a nearby ice cream store that might be open. But, too early in the season - none were open. However, it was a fun day!
More Photos
Members may see more photos in our online photo album.