Stinson Mountain, February 9, 2008
Preview
3.6 miles RT - allow 3 hours - 1300' gain. Will require snowshoes (if we keep what we have or get new snow) or traction device such as stabilicers/crampons. Stinson Mountain Trail ascends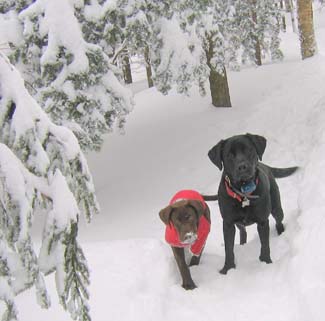 moderately and at 0.9 miles it turns Left on an old road to the former fire tower now used as a snowmobile trail. The hiking trail leaves Right at a fork at 1.1 miles and climbs more steeply to cross the snowmobile trail again about 100 yards before the old tower footings on the summit at 1.8 miles. There is a large ledgey summit with excellent views.

NEXT HIKE: February 9, Stinson Mountain
MEETING SPOTS: Exit 14 off of Rt. 93, LL Bean/Hannaford side, Concord at 8:00 a.m.
Mobile station in Wakefield (junction of Rt. 16 and 109) at 7:45 a.m.
Stinson Mountain Trailhead at 9:00 a.m
TRAILHEAD: From I-93 take Exit 26 and proceed West on Route 25 about 7.8 miles to Rumney and turn Right on Main Street which becomes Stinson Lake Road. About 5.2 miles up reach outlet of lake and turn Right (uphill) onto Cross Road following it .8 miles to trail sign at T-intersection. Turn Right on Lower Doetown Road (privately maintained/ no parking) and go .3 miles to trail sign and parking area on Left.
HIKE LEADER: Diane King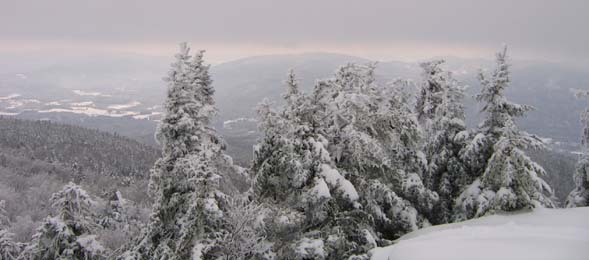 Trail Report
After more than a week of on and off rain, snow, sleet, drizzle and gray skies fifteen dayhikers and two dogs (make that 1-1/4 dogs since Quincy is such a tiny pupply) gathered at the intersection of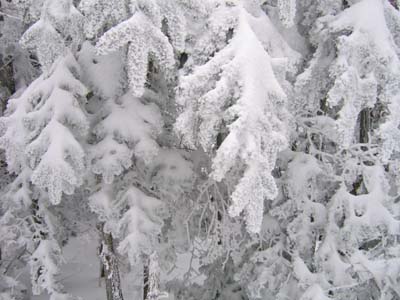 Cross Road and Lower Doetown Road and bit the bullet. We trekked an additional 0.3 mile on Lower Doetown Road which was unplowed, but reasonably groomed, to the trailhead. Most wore snowshoes and that was certainly all that was necessary.

Others had been on the trail prior to us so we didn't have to work hard to get to the junction where the snowmobile trail and hiker trail split. One person opted to head up the snowmobile trail while the rest let Jack scoot ahead and break the trail -- thanks Jack!

I think the best scenery of the hike was on the way up when the icy branches were covered in fluffy snow against the backdrop of grayness. Skies were overcast with a hint of brightness as we ploughed our way up the windy trail to the summit. The snowmobilers were nowhere in sight when we arrived, although we did see them here and there along the way enjoying their terrain and allowing us to do so as well.

There was a decent view and the sun seemed to shine down on the valley below. After a group photo op we headed down. Half took the snowmobile trail and half took the hiking trail.

Eventually clouds were chased away by blue sky and sunshine. It was a comfortable 20-26 degrees as we covered the 4.2 miles in just under 3 hours, including our long lunch break up top.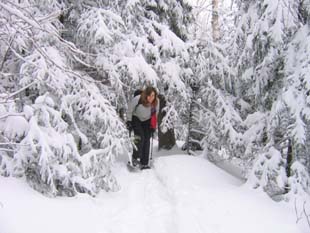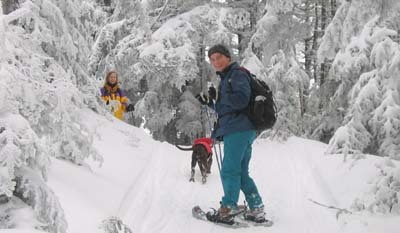 More Photos
Members may see more photos in our online photo album.