East & West Royce, July 28, 2007
Preview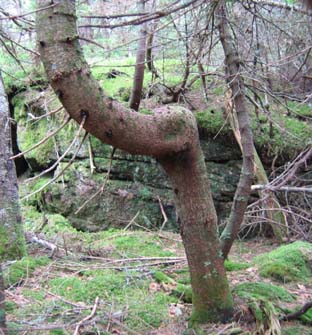 On Saturday, July 28 we will be climbing East and West Royce. The summit of East Royce (3,114') is in Maine, and the summit of West Royce (3,116') is in New Hampshire, so this will be a unique chance to reach summits in two states on the same day. We will take the East Royce Trail from Route 113 in Evans Notch. This is a short 1.4 mile trail, but climbs 1,500' in that time. It has some ledges at 1.1 miles, then open ledges at the summit with views north and west.

We backtrack 0.4 miles to take the 0.2 mile Royce Connector Trail to the Royce Trail, which leads to the West Royce summit after 1.2 miles. We go down about 500' and back up another 500' to the summit. Then we will retrace our path to the Royce connector trail and the East Royce trail to descend. The entire hike will be about 5.5 miles, but expect it to be very steep, both on the uphill and the downhill, with plenty of ups and downs on the top. I expect it to take about 5-6 hours.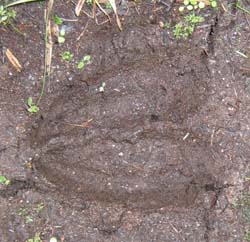 NEXT HIKE: July 28, East & West Royce
MEETING SPOTS: Exit 14 off of Rt. 93, LL Bean/Hannaford side, Concord at 7:00 a.m.
Puffin Stop in Wakefield (junction of Rt. 16 and 109) at 7:30 a.m.
Trailhead at 9:30 a.m
TRAILHEAD: On the west side of Route 113 just north of the height of land that is 3 miles north of Brickett Place.
HIKE LEADER: Faye Doria
Trail Report
On July 28th, Faye took us to East and West Royce - here is her report: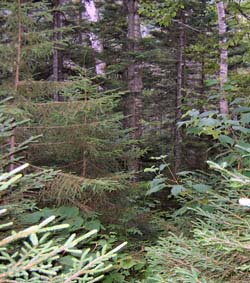 After a couple false starts, eight hikers and two dogs started the steady climb to East Royce. It wasn't as steep as expected, but it was a steady 1.5 mile climb. We interrupted it with a stop at the first trail junction and again at the ledges a little farther up. The haze and low clouds made it difficult to see very far, but we could tell there would be great views on a clear day.

After a few scrambles up rocks, we rested and ate lunch #1 on the summit and enjoyed the breeze. The summit of West Royce looked much higher, maybe because it was in a cloud. But we started down to hike over to it anyway.

We went back to the junction and hiked a nice level path through the woods for a while. There was good signage at the various junctions, which was amazing since the trail looked like no one had been on it for a while. One hiker remarked it was good we hadn't rested too long on the summit, or the trail might have been completely overgrown by the time we got on it.

We hoped for a sign marking the Maine-NH border, but we passed the border without any notice. The last 0.7 miles to the summit of West Royce seemed very long and uphill. We finally collapsed on a ledge and only continued when it was agreed the summit would only take 10 more minutes to reach. Surprisingly, that's all it took!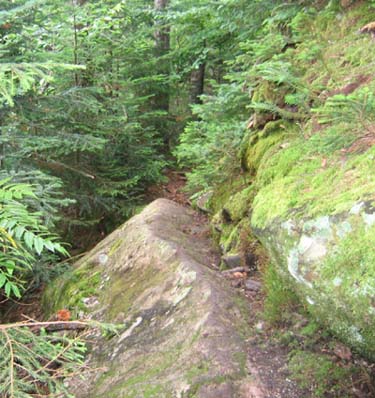 We found a nice spot for lunch #2. The haze or clouds had settled in so the views were even more obscured, but they had possibilities. I couldn't find any description of West Royce in any of my books that said whether the summit was wooded or open or had any views. I joked that no one had ever actually been there - and it seemed that way to us. We met one other hiker at the summit, and that was the only other hiker we saw all day.

The weather forecast had thunderstorms in the afternoon, so the drops of rain we felt after lunch encouraged us to head down. With the 99% humidity we had been hiking in all day, it was hard to believe we could even feel the raindrops. We had a few showers occasionally on the way down, but actually hoped for more to cool us off.

We were all down in 5.5 hours and determined the hike was 6 miles in all. Everybody agreed it was just the right distance.

Since the little bakery/ice cream shop in Stow was closed, we had to go into Conway for ice cream. By then the sun was out. And everyone was happy to be home before dark.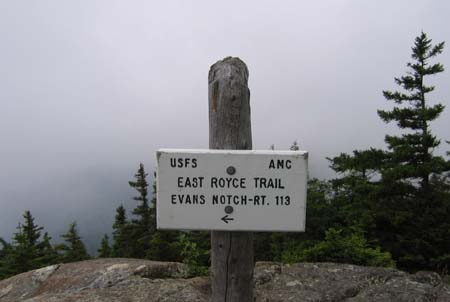 More Photos
Members may see more photos in our online photo album.