Red Hill, April 5, 2008
Preview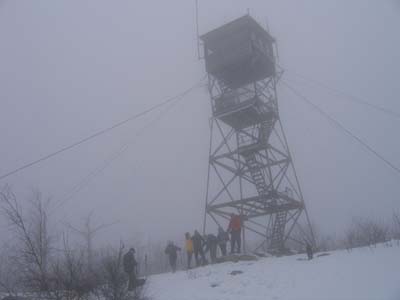 For our first hike we'll be going to Red Hill. It's a short hike to a fire tower overlooking Lake Winnipesaukee and Squam Lake. It's only about 1.5 miles to the summit but it has 1370 feet of elevation gain so we'll say this is a low/moderate hike.

I checked out Red Hill last Saturday. I wanted to see if I could find the Eagle Cliff trailhead. We couldn't, don't know if it was snowed in or what so we'll just go up and down Red Hill.

Still lots of snow up there but no snowshoes required if you have yak trak's or stabilicers.

The total hike will be 3.5 miles. Pray to the Sun God.

NEXT HIKE: April 5, Red Hill
MEETING SPOTS: Exit 14 off of Rt. 93, LL Bean/Hannaford side, Concord at 9:00 a.m.
Wal-mart, Rt. 11 Framingham at 9:15 a.m.
Red Hill Trailhead at 10:00 a.m
TRAILHEAD: Take Rt. 25 in Meredith east to Center Harbor, about 5.5 miles. Go left at the lights onto Bean Road. Follow Bean Road for 1.5 miles then turn right on Red Hill Road and follow that for 1.25 miles to the parking area.
HIKE LEADER: Dennis Marchand
Trail Report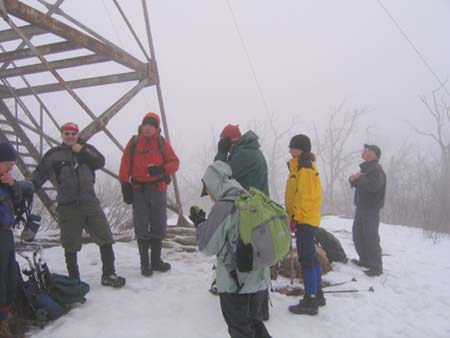 The first hike of the year didn't look too promising but nine hardy souls and two dogs weren't going to be denied. We all decided to take a chance and it worked out great.

Still plenty of snow on the trail; in some places over two feet but we were fine. It was a fairly easy 1.7 miles to the summit in cloudy overcast skies, at one point it started to rain a little.

At the fire tower we were socked in by the clouds. The tower was closed with icy steps so we didn't try going up, nobody home anyway. We had a quick lunch and started down on the loop section. Suddenly the clouds lifted and we had an awesome view of the many lakes in the area. The sky got blue and the sun came out and it warmed right up. Life is good.

We tried for ice cream afterwards; nothing open yet but found a nice coffee and pastry shop. Yum. Looks like this year's hiking season started off fine. Hope we have many more hikes just as good.
More Photos
Members may see more photos in our online photo album.