Peaked and Middle Mtns., April 14, 2007
Preview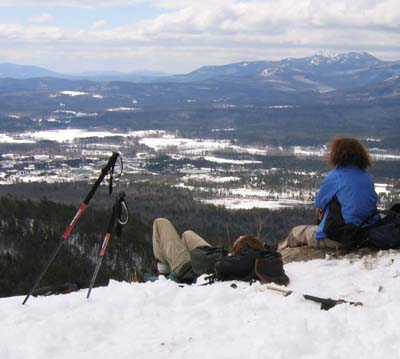 Peaked Mtn. (1739')/Middle Mtn. (1857') are part of the Green Hills of Conway. Both peaks afford excellent views and several good viewpoints. The hike is a loop with "spurs" to each mountain. Total mileage is 5 1/2. This is not a difficult hike and we can certainly take our time as it is a mere 3 1/2-4 hours to complete! As with most spring hikes, be prepared for mud, some ice and possible "tricky" brook crossings. Time to visit your favorite outlets afterwards....:)

NEXT HIKE: April 14, Peaked/Middle
MEETING SPOT: Puffin Stop (Mobile Station at junction of Rt. 16 and 109) in Wakefield at 8:00 a.m.
TRAILHEAD: Thompson Rd. off Artist's Bluff Road in North Conway at 9:15 a.m.
HIKE LEADER: Sue Murphy
Trail Report
Sue took us on our first hike of the season, here is her write up:

Thirteen happy hikers congregated at the trailhead to Middle Mtn at 9:30 debating whether or not snowshoes were needed...the 6 hikers who chose the snowshoes were the smart ones! Once we were a mile into the trail and heading to the summit of Middle Mtn, we all wished we had worn them. In some places the snow was 2 feet deep! Fortunately, our snowshoe clad friends did not mind leading the group and breaking trail. (Well, there was a little whining...) Having to plod up the mountain in the deep snow made the hike quite challenging!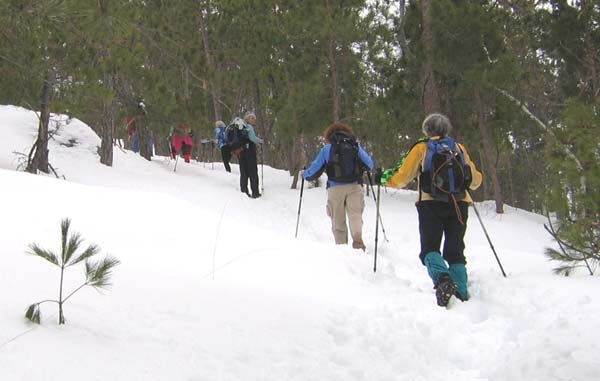 The summit of Middle Mtn was lovely. We were able to enjoy lunch with views to the east and southeast. One of our groups even attempted what is called "trash bag" sledding. After a half hour of leisure the group prepared to continue on. The snowshoe clad leaders trekked to the front of the group and began the descent of Middle Mtn. then north to Peaked Mtn. The summit of Peaked Mtn. was spectacular! There was plenty of room to rest and relax and enjoy another lovely view in the warm sunshine.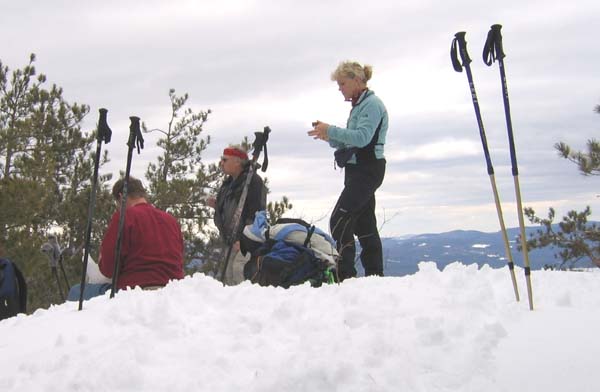 After another half hour or so, we reluctantly headed down Peaked Mtn toward the trailhead. All went well until Pam suggested a shortcut... without a compass, and only having the brook as our guide, we bushwhacked through the deep snow and dense brush the last half mile of the hike and found our way to Thompson Road. All agreed it was an adventurous, challenging and enjoyable hike.


More Photos
Members may see more photos in our online photo album.