Pack Monadnock, November 3, 2007
Preview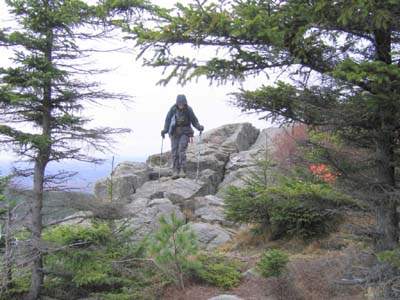 Our next hike is to Pack Monadnock, here is Reinhild's preview:

I'd like to spot cars on Mountain Rd. north of the peak so that we can do a thru-hike, but the meeting place will be Miller State Park in Temple, NH, at the height of land on Rt. 101. The through hike is 5.5 miles and will take us about 4 hrs of hiking time, and with the car spotting it will probably take us more time, so I think trailhead should be at about 9 a.m. or so.

We will be hiking the Wapack trail over South and North Pack Monadnock, with a stop at the raptor station to (hopefully) be able to watch the last of the migrating birds. It's a bit late in the season, but there were so many great hikes going on in October.

In case we can't spot cars, at least there is another trail we can take down from South Pack, but that hike would be closer to 6 hours, and a total of 8 miles round trip.

NEXT HIKE: November 3, Pack Monadnock
MEETING SPOTS: McDonald's at the junction of Rt. 101 and Rt. 125 at 7:45 a.m.
Miller State Park at 9:00 a.m
HIKE LEADER: Reinhild Davis


Trail Report
Hi all, Reinhild took us to Pack Monadnock on the 3rd of November; here is her hike report:

In spite of the threatening skies and approaching storm, four hikers and one dog made their way up North Pack Monadnock on Ted's trail. The trail was lovely, with fall woods and stark cliffs. As we reached viewpoints the wind started to pick up and we could see the storm approaching from the south, so we decided to summit North Pack and not continue on to the main (South) peak.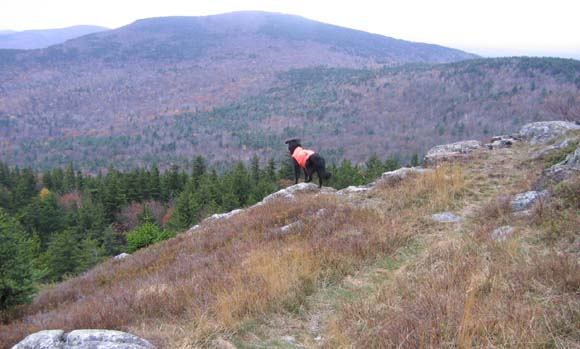 We only met one other pair of hikers on the summit -- not many, it seemed, had ventured out. After a short, cold lunch break (our second one), we decided to head down ahead of the rain, taking Caroline's trail for the descent. About one mile from the cars the rains came, and we stopped and donned rain gear.

According to Mary, Ted and Caroline made these trails and perhaps donated some of the land for our use and enjoyment. Although a bit longer, they provide a lovely alternative to the Wapack trail which is the usual approach.

No ice cream on this hike!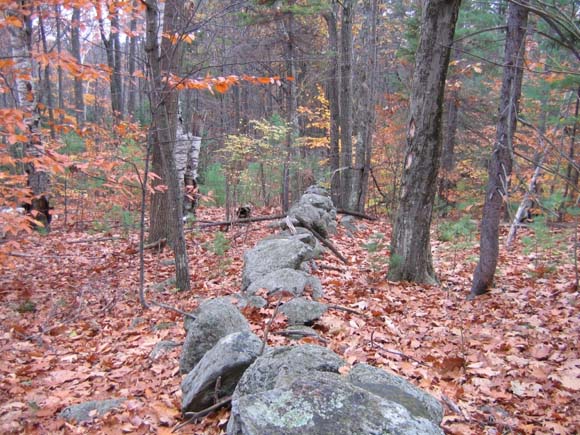 More Photos
Members may see more photos in our online photo album.