Mt. Moosilauke, July 22, 2006
Preview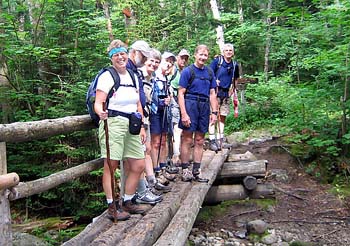 We will be doing the Gorge Brook/Snapper loop which leaves from the Ravine Lodge. It is a 7.5 mile hike. It is considered a moderate hike. The trail up has been newly relocated to eliminate steep sections and include several excellent viewpoints!

NEXT HIKE: July 22, Mt. Moosilauke
MEETING SPOTS: Sue will meet folks at the Rite Aid on Rt. 11 in Farmington and leave promptly at 7:00 :)
Manchester/Concord/Mass. people meet Jackie at the UNO's parking lot off 93 (exit 14) and leave promptly at 7:00 :)
The two groups will connect at the Irving Station off exit 23 at 8:00. This is a good place for bathroom, coffee, snacks, sandwiches etc.

TRAILHEAD: We should be at the trailhead by 9:00. Take I-93 Exit 32 at Lincoln and go West on NH Route 112 (Lost River Highway) about 3.3 miles to NH Route 118. Go left on Route 118 about 7.5 miles to Ravine Lodge Road, turn right and go about 1.5 miles to parking lot at end.
HIKE LEADERS: Sue, Jackie
AFTER THE HIKE: Karen & Jeff Ferguson would like to invite people to stop by their house for a cookout following the hike. They are 1 exit north of the exit everyone will have to take to get to the trailhead, (about 3 miles total).
Karen's note; We will supply a salad of sorts, soda, water and condiments. People can bring their own food to grill and maybe chips or some other item that will do okay sitting in the car at the trailhead.
People can RSVP for the cookout directly to me. We will not be around this weekend so I will not be able to respond to e-mails until Monday night or Tuesday.
Trail Report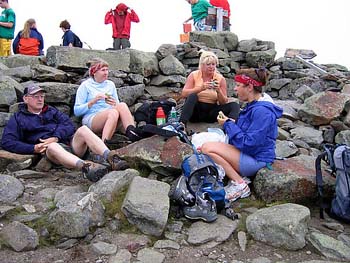 Our last hike was up Moosilauke, Sue and Jackie did a great job planning and leading the hike, here is their report:

Thirteen of us gathered at the Ravine Lodge near the base of Moosilauke. The weather was questionable but we trusted the weathermen...no rain til the late afternoon! Ha! We headed up the Gorge Brook Trail. It follows Gorge Brook for about 1 1/2 miles. Jeff and Karen's dog Sawyer did what we all longed to do: jumped in and just lay himself down enjoying the cool water! (watch for the picture in our album!).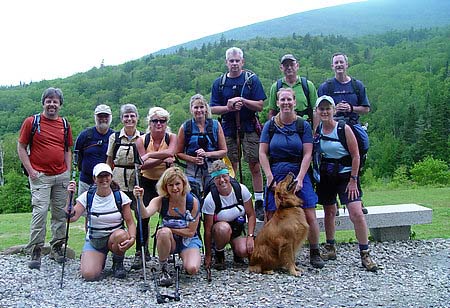 The trail led us uphill on moderate grades passing several outlooks where we would all catch up with each other. The summit of Moosilauke is a wide open ridgecrest with plenty of room to spread out which is what we did. By this time the darker clouds had gathered in the sky and as we finished our lunches the rain began to fall. We quickly donned our raingear and headed toward the Carriage Trail. We were anxious to leave the summit as there was the possibility of lightening. The Carriage Trail was the perfect trail for descending in the rain...fairly level and no large rocks and tree roots to contend with. The unfortunate part was that it was not in the shelter of the forest so by the time we all got down to the lodge we were drenched...I think we made record time though. But, we all agreed it was a wonderful hike that we would gladly do again. Karen and Jeff had graciously invited everyone to their "wilderness" home for a cookout. Due to the storm and wet clothing most headed straight home...not even ice cream! Some of us did head to the Ferguson's for a brief visit. A lovely log home in the woods! They will take a "rain check" on the invite. Thank you, Jeff and Karen.
More Photos
Members may see more photos in our online photo album.