Mt. Monroe, August 12, 2006
Preview
Mt. Monroe will be the tallest mountain on the schedule this year. It's the fourth highest in NH at 5372 feet, part of the Presidential range just south of Washington. We'll be doing a circuit over Monroe, Franklin then toward Eisenhower. We won't be summiting Eisenhower unless some people want or need to if peak bagging. It's about another mile to our total. We'll be going up the Ammonoosuc Ravine trail passing the Lakes of the Clouds and the Lakes of the Clouds hut. This is a beautiful trail (so I'm told) past falls and pools but has some very steep parts. I hope every one reads up about it.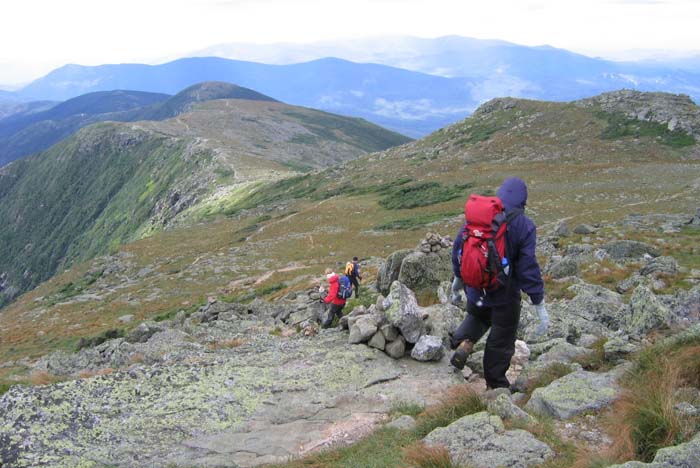 We'll hook up with the Crawford Path then over the Monroe Loop trail, back to the Crawford path to the Edmonds path at Eisenhower. We'll have about 3 miles above treeline so let's pray to the Sun God we have good weather although It seems like every time I say that it turns crappy out. We'll have to spot a few cars at the end point. The whole route is about 8.5 miles with 2900 ft. elevation gain. Anyone that doesn't want to do the whole thing can just go up to Monroe or just to the hut and back again. That's 7 miles to summit and 6.2 to the hut and back. I'm estimating the time from some books at 6 hours plus not including lunch.

NEXT HIKE: August 12, Mt. Monroe
MEETING SPOT: LL Bean, Concord. Exit 14 off rt. 93 straight across exit.LL Bean is on the left. Park near the right of the store: 8 am
Trail side meeting: parking area for Mt. Eisenhower to spot cars. Coming from Conway rt. 302 west. Mt. Clinton road, right after Crawford House: 10 am
HIKE LEADER: Dennis Marchand
Trail Report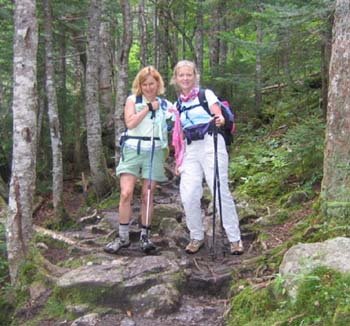 Last hike Dennis took us to Mt. Monroe, it was a great hike - here is his review:

I now have a new favorite trail, Ammonoosuc Ravine trail. I can't think of a more beautiful trail as 9 dayhikers found out. It starts off with a nice flat one-mile warm up through woods and across streams till it meets with the river. We followed the river for another mile to Gem Pool, a beautiful pool with a cascade coming into it. This is also where we met another day hiker, Kathy.

From here it turned steep but thanks to the very cool temps ( about 50) and wind it was no big deal, lucky it wasn't 90 and humid. After a while there's a small side trip to the gorge, a double, very steep gorge with cascades falling into another pool. Well worth checking out.

More up past numerous cascades till we come out into the open with a view of Mt. Washington. It also got much windier. Lunch at the Lake of the Clouds hut out of the wind and cold. The weather station inside says 40 degrees and 40 mph wind. At the bottom it didn't look too promising with low clouds all around, plus the Mt. Washington web site said the summit had a 15 degree wind chill. It was all clear by the time we reached the hut. They had warm soup and hot drinks for sale, yum.

After lunch inside the group broke up with 4 continuing, the rest went down. Kathy went on ahead to see how the conditions were before deciding where to go. Monroe beckons, did it get windier going up. Estimating gusts at 50 - 55. Good thing we were prepared with warmer clothes, wind protection, hats and gloves, which included socks on hands as gloves. Hey it works.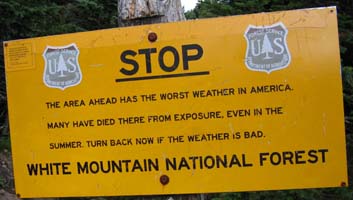 On toward Eisenhower along the Crawford Path. This is also a beautiful trail along the Presidentials. What a fantastic pair of trails. Arriving at Eisenhower Mark wanted to bag it so three went up (Jim, Mark, and Diane) and I stayed and guarded the packs. We also ran into Kathy again, she just finished going up Eisenhower. Her plan was to go all the way back then down to her car. Long day for her. For me it was over 8.5 miles for the others over 10 with Eisenhower. Back down the Edmands Path in 7 hours. Now we're tired. Ice cream then home. Great day in the mountains. I highly recommend both of these trails.
More Photos
Members may see more photos in our online photo album.