Mt. Major , July 3, 2006
Preview
NEXT HIKE: Monday, July 3, Mt. Major, NIGHT HIKE
MEETING SPOT: LLBeans in Concord off of exit 14 at 6:00 PM, folks towards the east to arrange their own car pooling.
TRAILHEAD: 7:00 PM, the parking area and trailhead are located on Rt. 11, 4.2 miles north of Alton Bay. Heading north, the parking area turn-off is located shortly after a scenic vista and is on the left hand side of the road.
RAIN DATE: Saturday, July 8th
HIKE LEADER: Sharon Sierra
Trail Report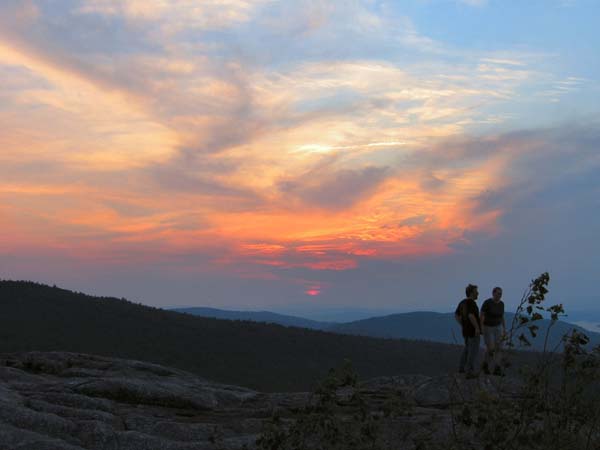 This week Sharon took us on a special hike, here is her review:

What year was the stone hut atop Mt. Major built? This was one of the questions from our summit trivia contest. About 16 SDHers participated in our annual fireworks hike up to Mt. Major on the eve of Independence Day.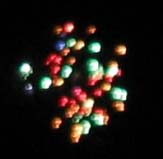 We started out as thirteen, and then as seems usual for this hike, met up with several more from our group at the top. The main bunch headed up the Boulder Loop Trail. It was mostly easy with some steepness near the top. The trail, as its name implies, has some interesting rock formations including a small rock "tunnel" that the route passes through.

It only took us an hour to reach the summit (1.8 miles). The bugs weren't bad. It was hot for the hike both up and down; but cool and breezy on the mountaintop. Some found the top too cold after a while; I found it invigorating, and I think Jeff said he thought it was hot.

Upon summiting, we were treated to a beautiful sunset with a bright pink sun. It was hazy but we could still see pretty far. After wandering around to take in all the sights, we chose our positions for the best fireworks viewing and enjoyed a light dinner. Dennis and Kristin brought brownies to share.

Next up was the trivia contest. Still wondering about that stone hut? It was built in 1925 by then-landowner George Phippen. The roof promptly blew off the next winter. And a stronger roof lasted only two winters before blowing off in the spring of 1928.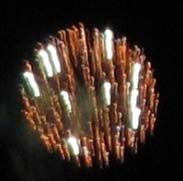 We had ten questions and ten prizes. A few of the queries were about Mt. Major and the rest related to Independence Day. How did "John Hancock" become synonymous with a person's signature? Sal knew this one. It's because he signed his name in such large handwriting. When signing, Hancock reportedly said, "There, I guess King George will be able to read that". Prizes included novels, candle toppers, beanie babies, and others. Sal was our trivia champion, answering correctly on two questions. Being a gracious winner, he passed on his flashlight prize to our youngest hiker: Dave's 6-1/2 year old granddaughter.

All during our stay on the summit, fireworks were going off all around...near and far and everywhere in between. It was also fun to see all the boats gathered down in the bay near Alton, crowding around the barge from which the fireworks were to be set off. The Alton show started at 9:35...15 minutes behind schedule...we were getting worried that they weren't going to happen.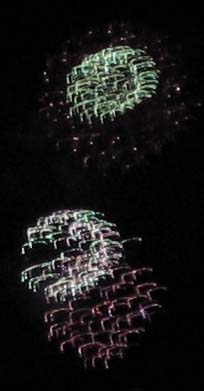 But then they started! It was a good show with some shapes looking like spaceships, others like flowers blooming in fast-motion, and of courses the traditional starbursts. The booms were soft and slow to reach us so a few from the group supplied their own sound effects. Emily suggested we bring up a Boston Pops recording next year. The total show lasted 25 minutes but it felt like the "finale" lasted for 10 minutes. They just went crazy at the end with non-stop, heavy-duty fireworks...we kept thinking they would end any second but it went on and on...it was great!

Even after the Alton show was over and we were gathering up our belongings, there were still big fireworks going off all over the place. We headed down the 2.4 mile Brook Trail. It's always funny to look back up the trail and see all these disembodied lights, from headlamps and flashlights, hovering about. And Dave's granddaughter was wearing a super-cool multi-color flashing necklace. She was a real trooper, only getting fatigued enough to fall a half mile from the end. We made her feel better by telling her about the face-first fall Dennis took into the stony brook (Ouch!). And Dave made her feel even better by carrying her on his shoulders for the rest of the way.

From the parking lot, some of the diehards headed south to try to find an ice cream place that was still open. I headed north and ended up getting treated to another fireworks show in Weirs Beach that started at midnight. I hope everyone got their fill of ice cream and fireworks for the holiday!