Mt. Madison, July 7, 2007
Preview
Next Saturday, Pat is leading us to the summit of Mt. Madison, here is her preview:

For the Madison hike we will summit via the Osgood Trail. This trail runs from the Great Gulf Trail, 1.8 miles from the Great Gulf Wilderness parking area on NH 16. This trail crosses some small brooks and the Osgood campsite. Plan on a long day, since the hike is approximately 6 hours roundtrip, plus the long drive.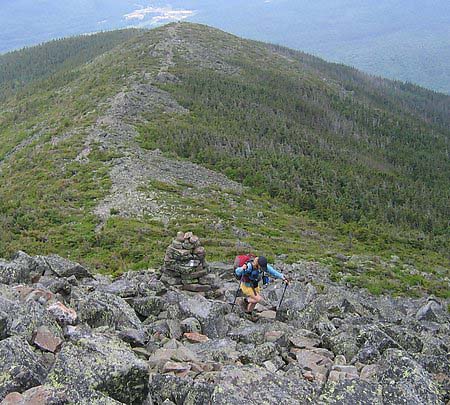 NEXT HIKE: July 7, Mt. Madison
MEETING SPOTS: Exit 14 off of Rt. 93, LL Bean/Hannaford side, Concord at 7:00 a.m.
Puffin Stop in Wakefield (junction of Rt. 16 and 109) at 8:00 a.m.
Trailhead at 9:30 a.m
TRAILHEAD: Parking for the Great Gulf Trail is on the west side of NH 16. This is about 1.5 miles north of the Mt. Washington Auto Road and about 6.5 miles south of Gorham. It is 1.5 miles south of the junction of NH 16 and Pinkham B (Dolly Copp Road) near Dolly Copp Campground. There is a large parking lot here. A White Mountain National Forest parking permit (or equivalent) is required.
HIKE LEADER: Pat Rourke
Trail Report
Last Saturday, Pat took us to Mt Madison, here is her report: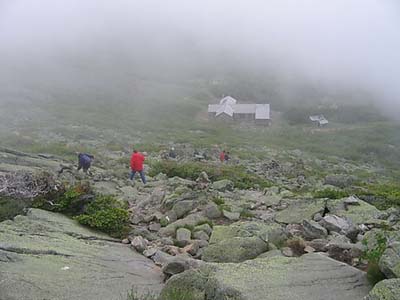 We had seven strong hikers for the Madison summit (which was an asset for this hike). The day started with cool temps and a nice steep climb. As we approached the summit, we could see the Mt. Washington auto road to our left, but Mt. Washington and Madison were overcast with no views. The strong winds made it feel 30-40 degrees. We rushed over the summit and had lunch at the Madison Hut (with a full house).

It was all downhill from there (no pun intended). It began to rain and our descent was huge boulders and rock slabs (very steep and slippery) so we had to slide down half the way to prevent tumbling face first. Our hike took nine hours rather than the book time of seven. But we were all smiling when we finished and knew we had to work hard for this climb.
More Photos
Members may see more photos in our online photo album.