Mt. Lovewell, May 5, 2007
Preview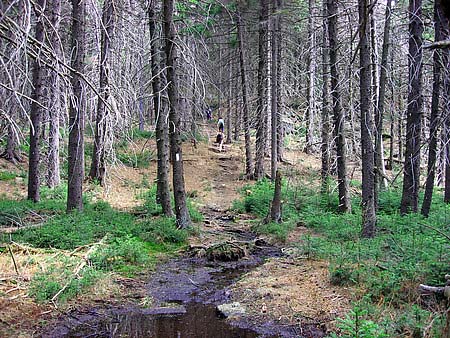 For our next hike we'll be going to Mt. Lovewell. This is an easy-moderate 4.5 mile hike with an elevation gain of only 925 feet, even though the mountain is 2,473 ft. The book ( 50 More Hikes in NH) says only 3 1/4 hours; it should be a good early season hike. It's part of the Monadnock-Sunapee Greenway. This trail stretches 49 miles from Mt. Monadnock to Mt. Sunapee. It'll be a little different direction for us, it's not in the Whites. It's in the little town of Washington, northwest of Hillsborough. It's a short hike and not a long drive so we can start a little later.
NEXT HIKE: May 5, Mt. Lovewell
MEETING SPOT: Exit 14 off of Rt. 93, LL Bean, Concord (park near the right backside) at 9:00 a.m.
HIKE LEADER: Dennis Marchand
Trail Report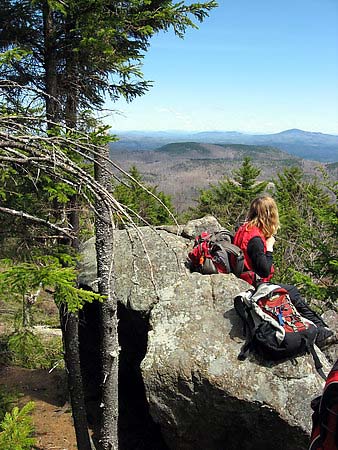 Dennis took us on a terrific hike to Mt. Lovewell Saturday, here is his review:

Sixteen dayhikers and two dogs had a good day in the woods. This is an out of the way hike so we pretty much had the place to ourselves; we only bumped into three potentially new members. Nothing really special about this one but it was sooo good to get out again. It had a couple of view spots which meant two chances for lunch. At the top we could see Mt. Washington's snowy top way off. We spent quite a bit of time gabbing at lunch, still down in about 3 3/4 hours.

Off to a new favorite ice cream place. This was really special, Beech Hill Farm in Hopkington. It's on Rt. 9/202 about 6 miles west of Concord. Check their web-site www.beechhillfarm.com. They have over 60 flavors of ice cream, what to choose? They also have lots of animals to see and pet. They had baby goats, baby pigs, baby cows, rabbits, ponies, a strutting peacock in full splendor, and a female who could care less. Actually he was showing off more for us then her. I highly recommend this place.
More Photos
Members may see more photos in our online photo album.