Mt. Libery and Mt. Flume, June 28, 2008
Preview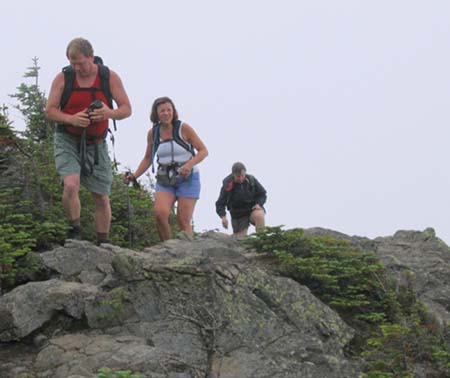 Option 1: Shorter hike to Flume and Liberty via Lincoln Woods via Osseo Trail to the peaks of Flume and then over Liberty and down Liberty Spring Trail. This hike is approximately 10 miles/6 hours and is moderate/strenuous.

Option 2: Longer hike to Flume and Liberty via Lincoln Woods via Osseo Trail to the peaks of Flume and then over Liberty and then over to Little Haystack via Franconia Ridge Trail and then over to Lincoln and then over to Lafayette and then to the Greenleaf Hut and then down Old Bridle Path. This hike is approximately 14 miles/10 hours 5300' and is more strenuous.

Both hikes require a carspot which will be pre-arranged by Deb, Diane and Mark.

We plan to have Mark's car at Old Bridle Path (for those on the longer hike) and Deb's at The Whitehouse Trailhead nearest Liberty Spring Trail and I will bring us over to Lincoln Woods. This means you just show up either at the normal carpool below or come direct to Lincoln Woods for a very early start of 7 a.m. We want to start together as a group and stick together until Liberty and that is part of why we need an early start.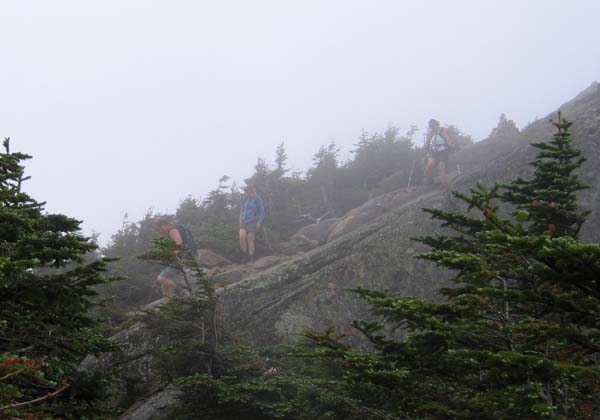 Whichever option you take, there will be a car there to get you back to Lincoln Woods. Depending on how many people attend, there may be a little shuttling between the carspots after the hike. If you want to assist in adding a car to the carspot, please e-mail Diane and we can firm up how you can do that with us. What would be ideal is if we can get someone on the shorter option to also spot a car at Whitehouse Trailhead nearest Liberty Spring Trail as I am thinking the majority may choose the shorter hike. If the weather forecast is not favorable, we could forego the longer hike.

NEXT HIKE: June 28, Mt. Libery and Mt. Flume
MEETING SPOTS: Exit 14 off of Rt. 93, LL Bean/Hannaford side, Concord at 5:30 a.m.
Mobile station in Wakefield (junction of Rt. 16 and 109) at 5:30 a.m.
Lincoln Woods Trailhead at 7:00 a.m
TRAILHEAD: I-93 Exit 32 onto Route 112 East for 5.7 miles then left into parking lot.
HIKE LEADERS: Shorter Hike: Deb Hann; Longer Hike: Diane King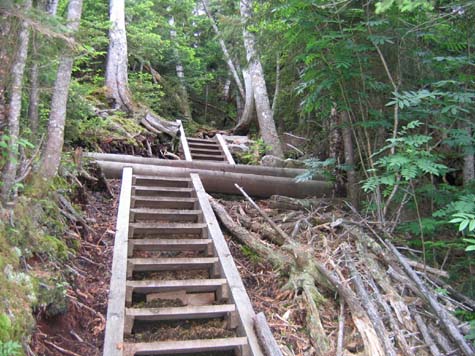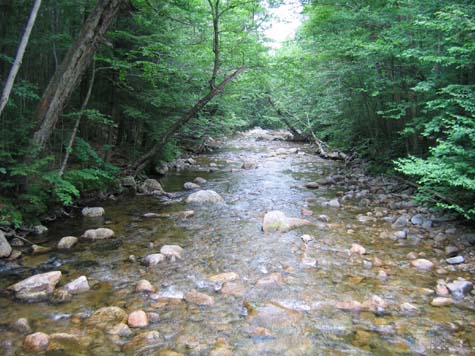 Trail Report
Here is Diane's report on the Liberty/Flume hike:

With varying forecasts for a humid day and threat of afternoon storms, eleven Seacoast Dayhikers stumbled out of bed to start this journey. We placed a car at Old Bridle Path and at Whitehouse Trail as promised. Thanks Mark and Julie for your extra early efforts in doing so. Deb got caught in one of those early morning time warps and wasn't able to get to Whitehouse early. So, at Lincoln Woods she decided to spot her car there and ascend the steep Liberty Springs Trail by herself.

The other ten headed down the flat Wilderness Trail to the Osseo Trail. After a couple miles we were all feeling the humidity and were glad the sun decided not to join us. The trail got steeper mid-way and began a series of switchbacks and then stairs - must have been over 60 stairs. After the stairs, it leveled off for about another mile then got a little steeper until we hit its junction with Flume Slide at 0.1 mile before the Flume Peak.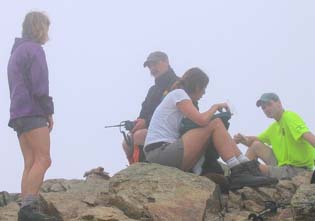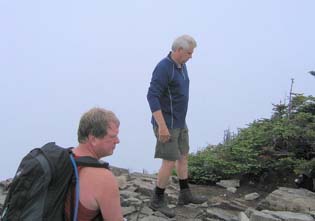 To make sure no one took the wrong trail (like anyone would want to descend the Flume Slide - but, hey, any excuse for a break right?), we plunked ourselves down at the junction until everyone caught up. We discussed the longer options but all wanted to see first if the weather would clear. At Mount Flume's peak we found the air unusually heavy, cloudy and windless.

We scurried to Mount Liberty and met up with Deb waiting for us on the cloudy Liberty summit. We also happened upon Fish and Game on a search mission. We gave them info as asked and some queried them - a fascinating but serious encounter which had an unhappy ending we later discovered.

At this point we all decided to take Liberty Spring Trail down since there were no views to be had and save the Franconia Ridge for a finer day. Mark and Mark volunteered to bring one of the cars below to collect the one at Old Bridle Path so we all had a ride right away when we got to the bottom around 3 p.m. At Lincoln Woods we had an ice cream vs. food and drink debate and wound up at Truant's Tavern patio in North Woodstock.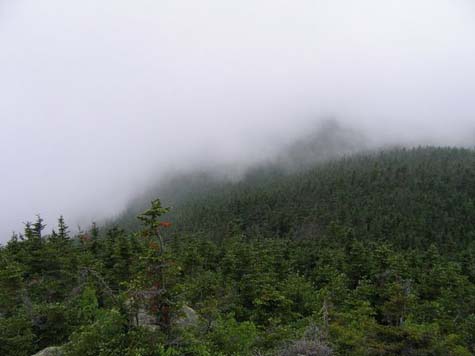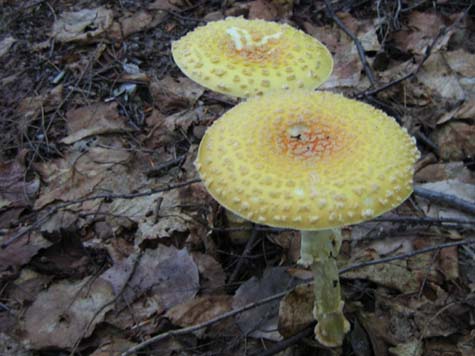 More Photos
Members may see more photos in our online photo album.