Liberty-Flume, September 9, 2006
Preview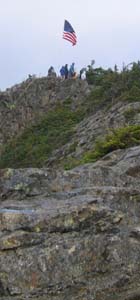 The next hike is the Mt. Liberty and Mt. Flume loop, these two mountains are on the southern end of the Franconia Ridge. We will park at the Basin and make our way to and up the Flume Slide Trail, once at the peak we will head north to Mt Liberty then down the Liberty Spring Trail. The Flume Slide Trail is described as steep, rocky, and can be wet and slippery. If there has been recent rain we will switch to "plan B" which is up and down the Liberty Spring Trail. Either way, we are looking at about 10 miles, 4200' combined ascent and a hiking time of just over 7 hours (sound like fun?). There is a pretty decent map at http://www.franconianotchstatepark.com/franconiahikingfinal.pdf

NEXT HIKE: September 9, Liberty-Flume
MEETING SPOT: LL Bean Concord, NH, Exit 14 off 93, 8:00 am
Trailhead: Park at The Basin, meet at 9:00 am
HIKE LEADER: To be determined
Trail Report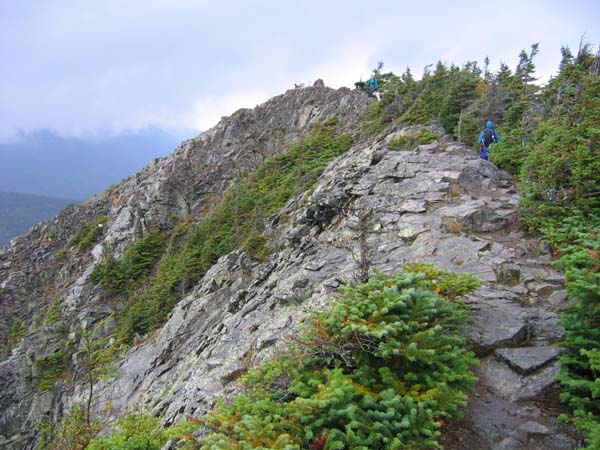 Here is Mark's review:
Saturday we hiked Liberty and Flume, it was "memorable". Leaving from the Basin parking area, 15 hikers and 3 dogs made their way to the junction of Liberty Spring Trail and Flume Slide Trail, it was there that we broke up into two groups. One group hiked up the Flume Slide trail and across both peaks, the other group hiked to Mt Liberty then headed back down.

Both groups got to see the flying of the flags at the peaks, the flags are part of a remembrance of September 11. You can read more and see pictures at http://www.flagsonthe48.org

There is nothing like rain & thunder to quicken your pace, as both groups reached their peaks they got rained on and the sky started rumbling. There was not a lot of hanging around, everyone pushed on as we were anxious to get out of the storm. About an hour after the rain started, it suddenly stopped and the sun came out, it was a nice day again - that didn't last long. While walking along the trail it was like someone turned the lights out, the winds surged then the driving rain started; folks that were still in the woods late afternoon experienced an intense lightening storm. The last of the soggy hikers made their way out around 6:30 - no group ice cream on this hike!
More Photos
Members may see more photos in our online photo album.