Mt. Haystack, Mt. Lincoln and Mt. Lafayette, July 14, 2007
Preview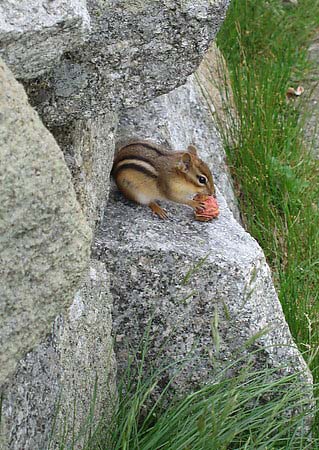 Next up, Claudette is taking us to the Franconia Ridge, read on:

On July 14, we'll do a loop hike heading up the Falling Waters Trail to Little Haystack Mtn. (4,780), over to Mt. Lincoln (5,089') on the Franconia Ridge Trail, and finally to Mt. Lafayette (5,260'). We'll head down the Old Bridle Path trail. Elevation gain is 3,850' feet and approximately 2 miles are above tree line with breathtaking views. Total mileage for this loop is 8.8 miles. Time is approximately 7 hours.

* Weather has to be good to do this hike.

NEXT HIKE: July 14, Mt. Haystack, Mt. Lincoln and Mt. Lafayette
MEETING SPOTS: Exit 14 off of Rt. 93, LL Bean/Hannaford side, Concord at 8:00 a.m.
Trailhead at 9:00 a.m
TRAILHEAD: Rt. 93 North into Franconia Parkway. Parking lot is after Basin parking. Park on the right side of highway across from Lafayette campground
HIKE LEADER: Claudette Raymond
Trail Report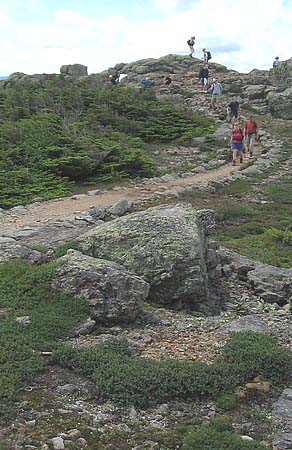 Claudette was the leader for a spectacular hike along the Franconia Ridge, here is her report:

Twelve fearless day hikers started up the Falling Waters Trail at 9:30 a.m. It was a beautiful day for hiking. Temperature was in the 80's, a little humid, sunny, with a cool breeze at the top. We had lunch at the summit of Mt. Haystack and polished off almond chocolates for dessert. A couple of our speedy hikers went ahead and finished the hike in record time. Others, leisurely crossed the open range to take pictures and enjoy the beautiful view. The summit was pretty active with people, but once a glider plane flew over us, it turned silent (see pictures). We stopped at the Lafayette hut on the way down to replenish our water supply as some of us ran out. Most people arrived back at the parking lot around 5:00. After the hike, a few of us went to the Mad River Tavern in Waterville for nachos and beer. How refreshing it was!


More Photos
Members may see more photos in our online photo album.