Kinsman North, January 10, 2009
Preview
North Kinsman via Mount Kinsman Trail to the Kinsman Ridge Trail and return via the same route. It is approximately 8 miles round-trip with 3700 feet elevation gain and should take about 6 hours.

This is a really pretty hike with just a little exposure on the ridge trail and nice views along the ridge. The first mile is wide and flat and gradually narrows and steepens as it climbs through hardwoods. There are several small stream crossings which should be frozen.

Dogs welcome.

GEAR: You will definitely need traction and should bring a pair of snowshoes to manage in snow that should range from 1 to 2 feet as we gain elevation along with something like stabilicers/microspikes or crampons for the steeper sections. Poles will help. A headlamp is recommended in case we encounter delays.

We will gear up and start off slowly when those who are at the trailhead are ready. If you are running late, you should be able to follow our tracks until you catch up on the logging trail and then bearing right along the blue-blazed trail. There are not multiple trails (although some of the locals may venture off-trail). Please note that cell service is sketchy in this area.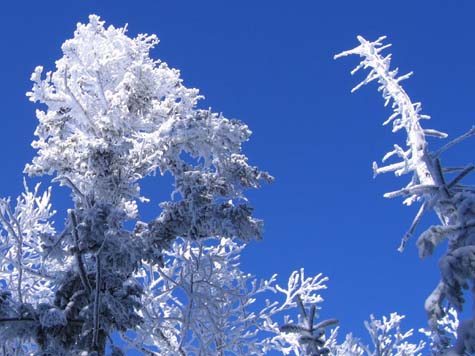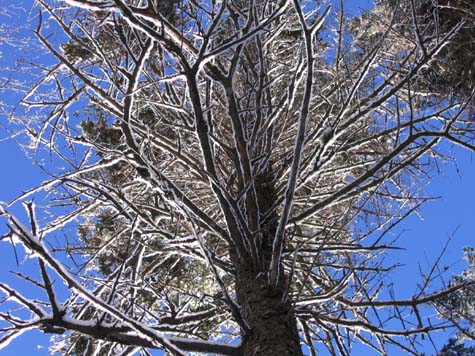 NEXT HIKE: January 10, Kinsman North
MEETING SPOTS: Exit 14 off of Rt. 93, LL Bean/Hannaford side, Concord at 7:30 a.m.
Mount Kinsman Trailhead at 9:00 a.m

TRAILHEAD: Take the Franconia exit of I-93 (Exit 38). At the off-ramp take a left. From the east side of Rte 116 at Franconia - Easton Town Line it is 4.3 miles south of Rt. 18 in Franconia Village and 2 miles east of the Easton Town Hall. The sign for the Town Hall is a few yards north of the trail but the trail itself does not have a sign. Mount Kinsman Trailhead is located right at the green town line sign for Franconia/Easton.

The trail follows a logging road at a prominent chain link gate across 2 stone pillars opposite a building with a large garage and a few hundred yards past a brown 'historic marker' sign. There is also a house beside the trailhead which has a garage. You have to park off to the side of the road on either side.

HIKE LEADER: Diane King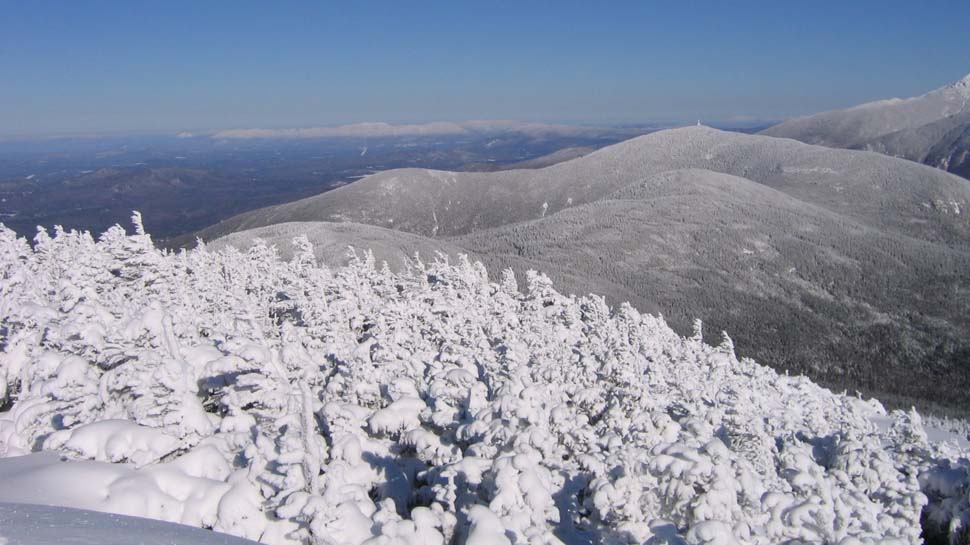 Trail Report
On 1/10/09 two hikers met in single digit temps at the Concord carpool. As we progressed north on the highway, temps dropped. At the trailhead it was negative 12 which we considered to be "good" as there was no wind so -12 only felt like -12. Yeah, I know - you're thinking "glad you couldn't make this one"... I had been monitoring temps/wind factors in the preceding days and would have cancelled the hike had much wind mph been forecast.

We had to insert our chemical hand packs before we even got going. We checked out the trail and saw that someone had been on it in the last couple days packing it down. We barefooted the first mile+ until the weight of the shoes on our backs became more noticeable.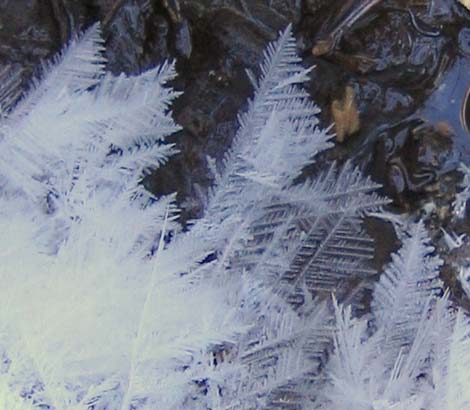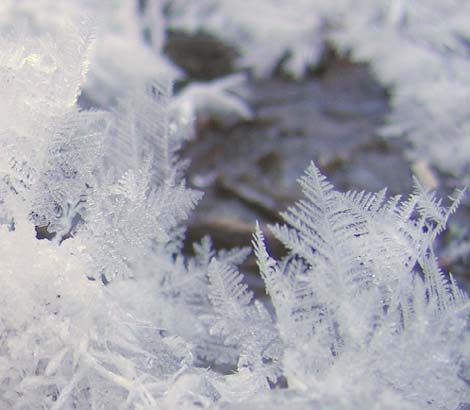 With the snowshoes on our feet we climbed. Some of the steeper sections and bouldery places were tricky but we easily managed to get to the peak without using our crampons.

The sky was blue and there were white fluffy clouds. While hiking along I saw Mark with his glove on a rock and his camera out. I asked if he was taking a picture of his glove to which he replied "yes". My jaw dropped... he explained he needed to snap the "white snow-feathered branch amidst the backdrop of black". I think he took five shots of it..... he says he only got three as he felt "rushed".... Evidently, when you are an artist, temperature is not an issue.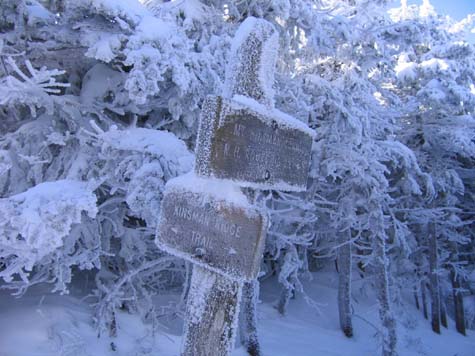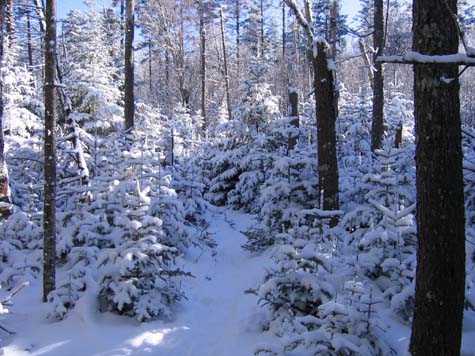 The ridge was awesome. The tall trees were dressed in a thick coating of glowing snow and there was no wind to wrinkle their garments. At the peak another hiker appeared and quickly set up a camera to snap pictures of peaks on the other side of Franconia ridge. (Must be a trend as this artist didn't seem to notice the cold either.) We saw three other hikers on the ridge trail but none on Mount Kinsman Trail.

We headed back down making great time on the steeper sections. I took off my snowshoes shortly after the junction with Bald Knob. We made it out around 3:30 p.m. and headed down to Dunk's for a hot cup of coffee.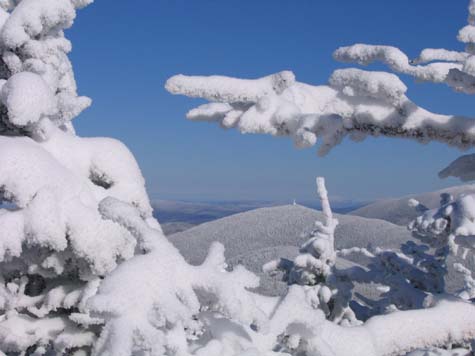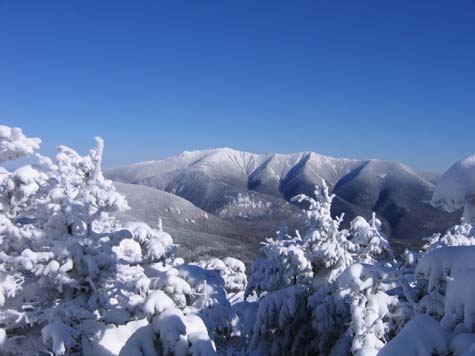 More Photos
Members may see more photos in our online photo album.