Mt. Israel, November 4, 2006
Preview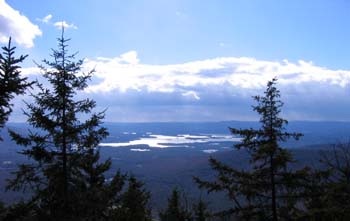 Our next hike is going to be to Mt Israel. Here is Diane's preview:

Moderate grade on Wentworth Trail, 2.1 miles to rocky summit of Mt. Israel with very nice views. 1700' gain, 4.2 miles total, just over 3 hours. Expect some slick rock due to hard freeze/snow depending on forecast and recent weather trend.

NEXT HIKE: November 4, Mt. Israel
MEETING SPOTS: LL Bean (Exit 14 off 93): 8:00 am
Puffin Stop (corner of Routes 109 and 16): 8:45 am
TRAILHEAD: Wentworth Trail 9:30 am
HIKE LEADER: Diane King
Trail Report
Hi all, the weather finally gave us a break and we got a hike in, here is Diane's review: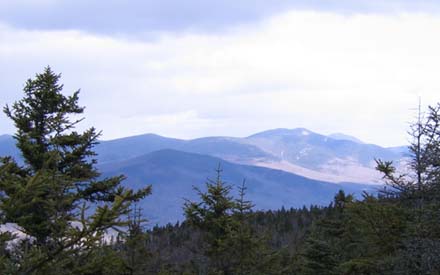 On a bright and crisp morning 11 people and two dogs arrived from various locations to hike Mt. Israel. We headed out in two groups as one person wasn't feeling well (a sudden migraine - an unpredictable beast). She and I decided it best to take it slower rather than to forego the hike but to turn back if her condition worsened. Thanks Mark for the Coke - that and the Advil helped a lot.

It worked out well for us to start ahead while the others were kind enough to greet the Wakefield crew. We asked the others not to wait in the parking lot for us at the end which is a departure from our norm. Fortunately, with experienced hikers there are always others who have "been there" ... besides, with Tessa and Mya at the ready we always know they will lead us to the top.

The trail began with a gradual incline and a couple very insignificant stream crossings. The biggest terrain challenge were patches of slippery leaves. The upper trail was free of snow and there were only inconsequential patches of ice posing only the promise of winter. The first group encountered snow flurries at the summit but the second did not. We could see many peaks including Moosilauke, Whiteface and the Tripyramids.

The second group stopped at the charming Holderness General Store for refreshments and checked out locally made gifts.

For future reference if coming from Wakefield, drive time is an hour or more not 45 minutes. I do apologize to all for the timing as the Wakefield carpool wasn't allowed enough time.

The report is longer than the hike, but just think ... you have until Dec 2nd to read it!