Phil Blampied, the founder of the Seacoast Dayhikers, offers this retrospective of SDH's early years.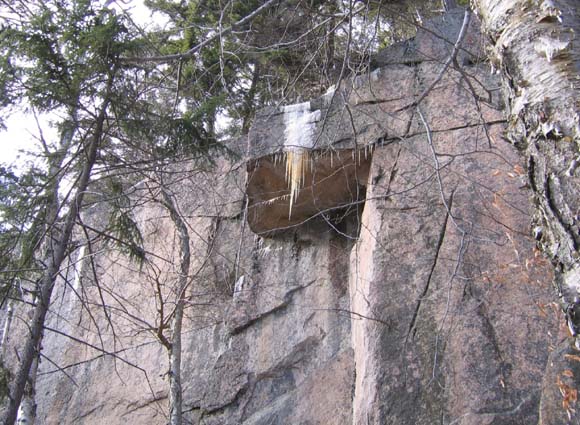 I founded the group in the Spring of 1994 after being unable to find a fairly relaxed hiking group in the Portsmouth, NH area. I was doing some traveling forbusiness in those days and had found weekend hiking groups in many of the cities in which I stayed, thus was inspired to found one in Portsmouth.
My initial idea was a group that would do easy-going walks around the Portsmouth area. I had moved to Portsmouth only a few months before and, believe it or not, was unaware of how big a role the White Mountains and hiking play in the recreational and social life of the state. I was soon to learn that the people who showed up for a hiking group, even one specifically called a "dayhiker" group, had ambitions far beyond strolling the woods at Odiorne Point.
I sent a press release to the local newspapers and I know for sure only that the Portsmouth Herald published it. It announced a meeting, in my apartments and open to the public, to plan a hiking group. At that time, I was living in a studio apartment small enough that you could take a bath and reach over and see what was in the refrigerator at the same time. (Wait a minute, that's a lie - there wasn't room for a tub. It was a shower stall and you could answer the phone and even the door if you stretched.)
Anyway, I had expected perhaps four or five people to respond, but on the Saturday morning in late March when I hosted the planning meeting, the hallway outside the apartment was suddenly alive with people trooping up the stairs to my apartment. People filled all the chairs and the couch and the floor and the shower stall and someone tried sitting on the stove and another ten people jammed the hallway and were peering in through the doorway. There were about thirty people in my oversized closet of an apartment. My neighbors were probably not thrilled but I was.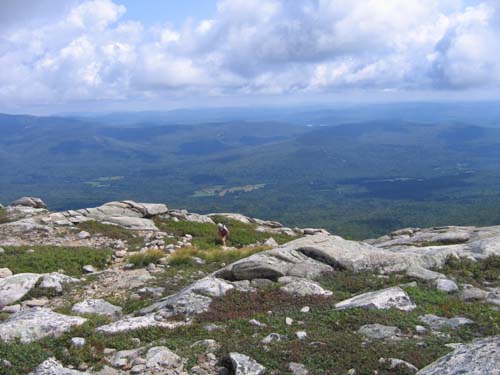 Anyway, consensus was soon reached among all us strangers on first, founding such a group, and secondly, on what hikes to take during the first season. Of all the people there that day, I've stayed in touch with only one - Bob Mulliken. And, as far as I'm aware, none remain active with your group. Some names, from the sign-up sheet passed around that day - which I still have - Claudette Mahar, Chris Clinansmith, Dennis Keating, Maureen A. Maes, Carrie A. Mayer, Bob Brackett, Connie Yost, Stan Sullivan, Caryn Camp, Nichole E. Rochelau, Todd Ringelberg, Leslie Johnson, Carol Penny, Nancy Eichorn, Paul Lamson.
To keep the group together, I figured a newsletter was the ideal tool. I produced it for the first several issues on a manual typewriter, photocopying a master and mailing it to everyone on the sign up sheet. I don't think there was any fee at first, although I quickly realized one would be necessary. The first mailing included the schedule for the first year, which I produced after our organizational meeting. I was calling the group "The Nameless Seacoast Hiking Group" at first. The 1994 schedule was as follows: Blue Job Mountain, April 9; Durham Woods, April 23; Wapack Trail, May 7; Mt. Monadnock, May 21; Crotched Mountain, June 4; Pack Monadnock, June 25; Bear Brook State Park, July 9; Mt. Chocorua, July 23; Mt. Potash, August 6.
I came up with the idea of carpooling to the trail head as a way to maximize socializing and minimize the isolation of people driving alone to the trail, as well as for saving gas and pollution. This was, after all, a group one would assume to be friendly to the outdoors and by extension the environment. Our first rendez-vous site was offered by one of the women who showed up the first day. It was the parking lot of the office building in which she worked - 60 West Road in Portsmouth. Most of the people in the group were from the Portsmouth/Hampton area, in fact, reflecting the circulation area of the Portsmouth Herald.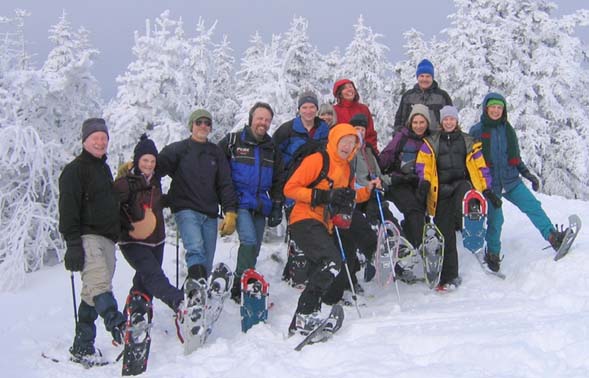 (In that regard, it has been interesting over the years to watch the geographical focus of the membership shift. Within a year, most of the Portsmouth'ers were gone and most of the membership seemed to be in the Dover/Rochester area. Then, the group started spreading its membership into Maine on the one side, and over toward Raymond, Epping and Manchester on the other. Now, if I'm not mistaken, the "Seacoast" Dayhikers seem to have a center more up toward Concord.)
I came up with the idea of designating a different member of the group as the leader and organizer of each hike, as I did not want to be one responsible for every hike and was hoping that would give the group some life independent of me and my efforts. My thought was that the leader of each hike would take responsibility for everyone else, hiking the trail once beforehand so as to be able to "guide" everyone else properly and to keep an informal eye out for everyone's well-being - ie, be willing at least to shake a stick at any bear that tried to eat a fellow Dayhiker and, most importantly, wait at the end of the hike to make sure any slower hikers actually did come out of the woods. This has not always worked out well. Some people would offer to lead hikes and then just not show up. Others would pick hikes with which they weren't familiar, make no effort to do any advance scouting, and wind up leading people in circles. Others would say, oh well, just meet us at the trail and if we're not there when you are, just go hike the route by yourself. People would say things like, well, I don't care if no one else shows up, I just want to do the hike. This often had me tearing my hair out because the whole idea of the group, to my way of thinking, was to meet other people and - yes, even for the-hell-with-everyone-else New Englanders - actually (gasp) COOPERATE in trying to make the hike enjoyable and safe for everyone involved.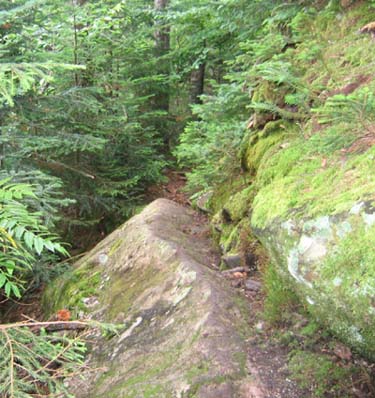 But this is not to give the wrong impression, as most of the people who became regulars and who lead hikes year after year were great people and wonderfully responsible leaders. Those who were less well-suited for the task of hiking amiably with others eventually fell away from the group and were replaced by people to whom the Dayhiker approach was more compatible.
As for the name Seacoast Dayhikers, I came up with it a couple of months into the first year of hiking. I confess I've forgotten my exact moment of inspiration, but by the June 30, 1994 copy of the newsletter, I was peddling Seacoast Dayhiker tee-shirts: "The newsletter treasury is depleted, once you get this one. However, I have ordered SEACOAST DAYHIKER TEE-SHIRTS! Yes! If I can peddle these to you, it will keep the newsletter (and for all intents and purposes, this organization) afloat (or a-hike) for the rest of the season. I should have them by the Chocorua hike - grey, white or yellow, all sizes, with a wonderful logo and the message SEACOAST DAYHIKERS ...NEW HAMPSHIRE, 1994. (I decided Coed Naked Dayhiking was entirely too dopey.) They will cost $12 a shirt and will no doubt become a valuable collector's item if you don't sweat 'em up too badly (don't wear them up Chocorua.)"
One thing I discovered was that there was more risk in having created this group than I expected. Particularly in the first year, we had a lot of people who got into trouble physically on the hikes. I remember a number of older people (and I'm not being prejudiced because I is one too now) who showed up and practically fainted half way up the trail. There was a broken wrist. And I particularly remember one gentleman, who only showed up for one hike in the 1997 season. That hike was one of the harder ones we've done - the entire circuit of the Moats. I thought there might be a problem when he came to the rendez vous site smoking a cigarette. He had no backpack, and only a 12 ounce bottle of water, which he had largely consumed before we even got to the trailhead. We warned him he might have trouble, but he ignored the warnings and gamely tried to keep up with us all. As luck would have it, we were lead that day by Pete Henderson, a hearty Scotsman who was a super hiker with a childhood spent racing along the peaks and crags of the highlands of Scotland. Pete kept bounding ahead of the rest of us, peering back down from ledges a hundred feet above us and saying in his charming Scottish brogue such annoying things as "well, are you coming? What, another rest?" So all of us were getting prodded along and Mr. Cigarette began looking like Frankenstein's ghost. Stumbling down the mountain, his knees finally gave way and he went face first down onto the rocks. Fortunately, Cheryl Mathieu witnessed this collapse, gave him some of her own water and bandaged up his wounds so that was able to get up and continue stumbling until he did, at last, get back to the parking lot.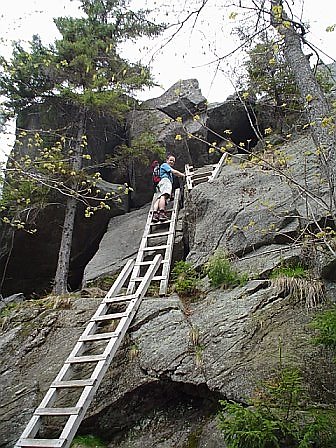 It was after that experience that I began to include our liability waiver on each copy of the newsletter - if you feel you are exceeding your capacities, turn back! Do not smoke cigarettes before hiking! Do not experiment with seeing how dehydrated you can get! Do not collapse face first onto a pile of rocks! ...And all the other stuff the Dayhikers has routinely warned against since that day.
I must confess that I, myself, was largely responsible for one of the greater debacles we ever suffered. In 1996, we had decided to get together over the winter for cross-country skiing, and I organized an outing to Pawtuckaway State Park. Things started badly as, with a caravan of a half dozen cars trying to find the park entrance, we got lost on the back roads of Nottingham. But that was the least of it. I lead the merry band of skiers onto a trail that turned out to be hilly and exhausting. We finally turned back after about two miles, but two of the women with us, new to cross country skiing, had maxed out physically and just could go no further. With the prospect of the ladies spending the night in the snow in the middle of the woods, those of us who had gotten out of the woods did what any environmentally conscious organization would do - we recruited a group of snowmobilers to go back into the woods and rescue them. It was the last time I ever complained about snowmobiles when out skiing and the first time I'd ever seen anyone swallow a Snickers bar whole, as one of the exhausted ladies did once the gallant snowmobilers deposited her back at the parking lot. Talk about bad planning. I should have been impeached as Dayhiker leader.
By 1995 and 1996, more of the members seemed to be coming from points inland. In 1995, two of the stalwarts of the group - Tom and Ann Hansen of Rochester - joined up. Not only were they regular participants, but for many years graciously offered their house as the site for the yearly potluck supper, which became the time to plan the next year's hikes. Also joining that year was Eileen Faulkner of Dover, who later put her Dayhiking experience to maximum use by hiking the entire Appalachian Trail. Eileen, as I recall, eventually introduced Cheryl Mathieu to the group, and Cheryl was one who took over the newsletter a few years later. Others joining about this time included Maggie McCauley, Pam Simmons, Bob McKinley, Beth Nightingale, Erin Pender, Janine Yurick, Bob and Elaine Lentz, Al Bassett, Rachel Bowles, Linda Smith, Laurel Pulsifer, Joan Chapman Leicht, and future newsletter editors/Dayhiker leaders Dennis Marchand and Sharon Sierra.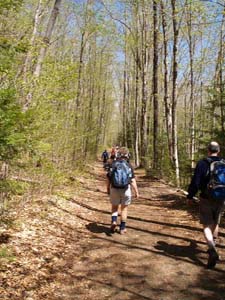 Under the influence of such great hikers as Eileen and Cheryl (whose ability to zip up tall peaks in a single … well, a few … bounds finally and firmly convinced me that men are not ALWAYS the stronger sex), the group by 1996 was tending toward more difficult hikes in the White Mountains. I always pushed for the little strolls in the parks and woodlands of the Portsmouth area, but was glad to be introduced to the White Mountains by the more experienced hikers in the group. During the 1995 season, the newsletter mailing list topped 50. During 1996, it topped out at about 60. And in my last year, 1997, it added up to nearly 80 names. Hikes scheduled in 1995 were: April 15, Mt. Agamenticus; April 29, Arethusa Falls; May 13, Marginal Way in Ogunquit; June 10, Mt. Chocurua; June 24, Wapack Trail; July 8, Mt. Washington; July 22, Welsh/Dickey; August 5, Oak Hill (crummy hike, no views and no place to park …) August 19, Mt. Eisenhower; September 9, Morgan/Percival; September 23, Mt. Major; October 7, Hedgehod; October 21, Mt. Lovewell; November 4, Pawtuckaway.
Hikes scheduled in 1996 were, April 13, Green Hill; April 27, Mt. Lovewell; May 18. Mt. Moosilaukee; June 15, Welsh/Dickey; July 13, Mt. Major; August 24, Tuckerman's Ravine; September 14, Mt. Chocurua; September 28, Kearsarge North; October 12, Percival/Morgan; October 26, Wapack Trail; November 9, Plum Island, Newburyport.
I can't seem to find the 1997 schedule, but among the hikes mentioned in copies of the newsletter from that year are the infamous Moat hike and a trek around the Great Bay Wildlife refuge at the Pease Tradeport.
I gave up the leadership of the little group in 1997 after one two many frustrations with people promising to lead a hike and then not following through, but Cheryl came along with fresh enthusiasm and picked up the newsletter and kept it going. She too had some bizarre experiences dealing with the public, but, never mind that, the group came back stronger than ever in 1998. And it amazes me somewhat that, now under its fifth regime and in its 12th year, the group hikes on. Good luck to you all and best wishes.
Phil Blampied
July, 2006