Mount Hale, May 12, 2008
Preview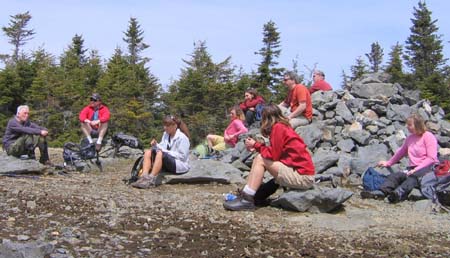 On May 10th we will hike Mt. Hale (4052'). This will be a loop hike with the ascent up Hale Brook Trail (2.2 mi.). We will then continue on the Lend-a-Hand Trail for 2.7 mi. This trail offers nice views of Carrigain Notch. We connect with Zealand Trail. We can stop at the hut for a potty/snickers break before continuing on the 2.3 mi. to the parking lot. A forest ranger that I spoke with felt Zealand Road should be open by Mid-May. If the road is closed, park across Route 302 in the lot. We will adjust our hike accordingly going up and down Hale Brook Trail rather than the loop.

Hike Rating - Moderate (due to conditions - trails ascending and descending are an easy grade).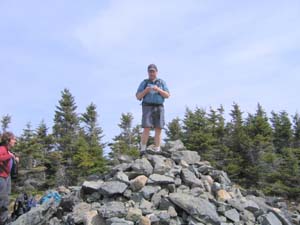 Total miles 7.2, time 6 + hours

NEXT HIKE: May 12, Mount Hale
MEETING SPOTS: Mobile station in Wakefield (junction of Rt. 16 and 109) at 7:15 a.m.
Exit 14 off of Rt. 93, LL Bean/Hannaford side, Concord at 7:30 a.m.
Hale Brook Trailhead at 9:30 a.m
TRAILHEAD: Route 302 to signs for Zealand Campground (2.3 mi. east of Twin Mountain Village). Follow Zealand Road to parking area 2.5 miles from Route 302.
HIKE LEADER: Deb Hann
Trail Report
Regarding Hale…it appears Jack and Deb are running a postholing competition. We learned during Saturday's hike that 3 inches of hardpacked snow can mysteriously "expand" to more than 12 inches…now I think I'm seeing why Deb so graciously pulls out a couple of pounds of chocolate during so many of her fabulous hikes - a little bribery goes a long way with this crowd! Here is her report:

On Saturday, May 10 twelve hikers and two dogs ascended Mount Hale via the Hale Brook Trail. Weather was mild and the sun peeked through the clouds. Black flies were calm/submissive.

Hale Brook Trail is a gradual yet constant grade. Okay, I may have miscalculated the depth of snow in shaded areas.... To coin Jack's term, we were "postholing"!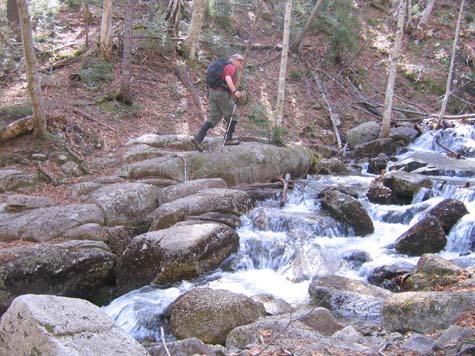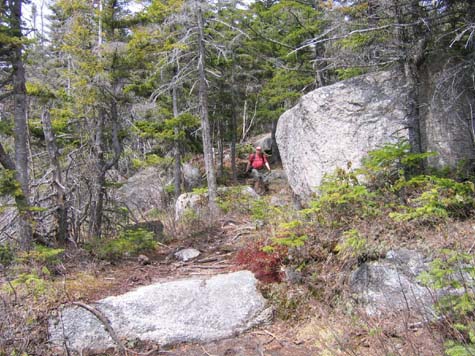 The group converged on the summit for lunch. We made our loop on the Lend-A-Hand Trail. It was only 2.7 miles to Zealand Hut, but the snow made it seem much longer! This is where we lost one hiker who had a time constraint and opted to descend Hale Brook Trail to be on the safe side.
We all met up at Zealand Falls Hut for snacks and a change of socks. There were a few spills, so it was a good opportunity to break out the first aid kit! We descended the Zealand Trail, a 2.3 mile walk in the woods. This is a flat, smooth trail with pretty views.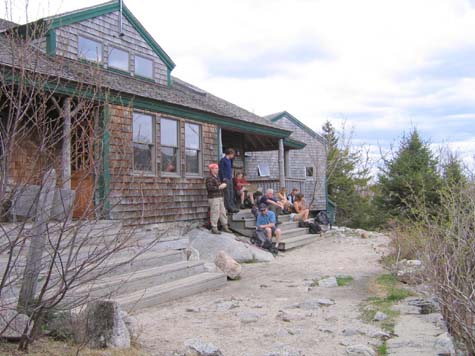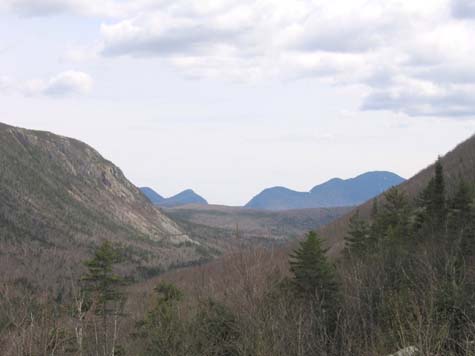 Okay, I may have miscalculated the mileage.... I forgot to add the 1+ miles on the road from Zealand Trailhead to the Hale Brook Trailhead. OOPS! Total miles for most was 8.2 miles (Charlie headed back in the car to pick up the last of us "snails". We opted not to rest on the bench and wait for a ride, so he found us half way down the road.)
Total time: 7 hours. We skipped ice cream as the hour was getting late and most places are still closed for the season. All-in-all, another great day in the woods with the SDH!
More Photos
Members may see more photos in our online photo album.