Lafayette, Lincoln, October 11, 2008
Preview
On Saturday, October 11 we will hike Franconia Ridge, doing a loop to summit Mounts Lafayette and Lincoln. The hike is 8.8 miles and time will be 7-1/2 to 8 hours. I am hoping the foliage, which should be very close to peak at this time, will provide us with a spectacular show!

This is one of the most popular hikes in the Whites. We will ascend the Falling Waters Trail to Little Haystack Mountain. This trail can be steep in spots and will pass by several points of interest. There are a series of waterfalls and a slanting cliff to take your mind off your aching knees. Once you are above treeline, it is all worthwhile. This ridge offers wide views of the "Pemi" Wilderness.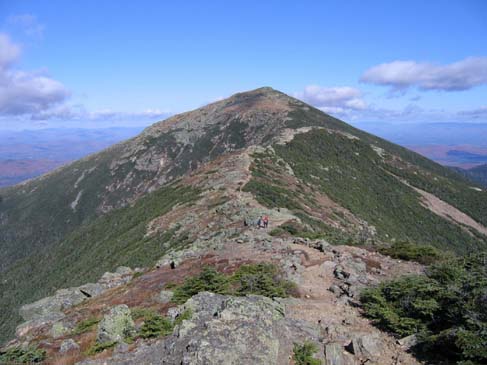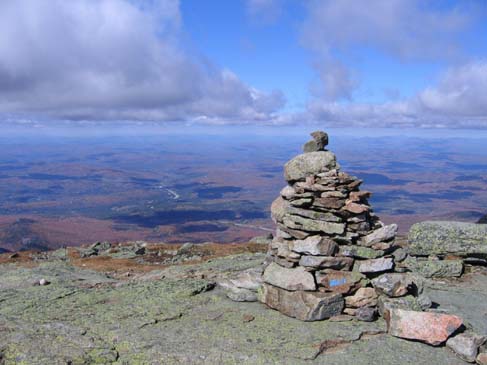 Once at the summit of Little Haystack, will follow Franconia Ridge Trail over the summits of Mounts Lincoln (5,089 feet) and Lafayette (5260feet). The descent will be down Old Bridal Path. We will pass Greenleaf Hut for a potty break and warm drink. This trail will take us right to the parking lot where we began our day.

Diane has agreed to "co-lead", in that she will lead the faster group. I will be the sweep. We hope this will allow everyone to hike at a comfortable pace without waiting too long. If time allows, we will arrange a watering hole to compare stories, if the hour is late, we will communicate to confirm all is well.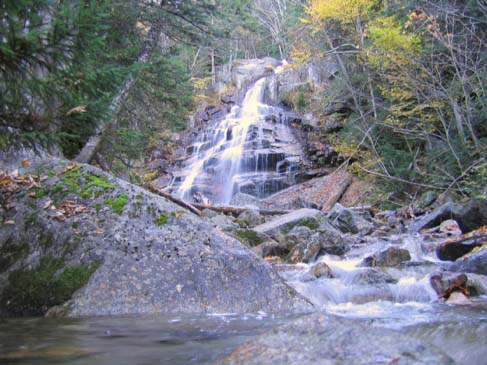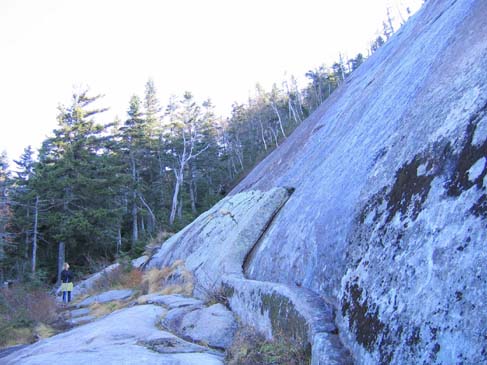 This is a strenuous hike, so please consider your abilities and limitations. All are certainly capable of this hike, but only if they have been out this season and have been conditioning. Also, be sure to pack layers, hats and gloves. Our hours of daylight are waning, so I suggest an early start. Hope to see you there!

Due to extreme conditions that can occur above treeline, weather will cancel. If conditions look ominous, hike leaders will decide if it is prudent to turn back and forego exposure on the ridge.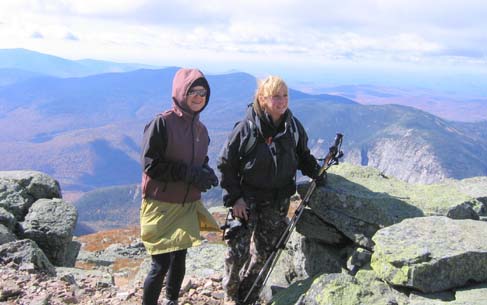 NEXT HIKE: October 11, Lafayette, Lincoln
MEETING SPOTS: Exit 14 off of Rt. 93, LL Bean/Hannaford side, Concord at 6:00 a.m.
Mobile station in Wakefield (junction of Rt. 16 and 109) at 6:00 a.m.
Falling Waters Trailhead at 7:45 a.m
TRAILHEAD: Take 93 North until it becomes Franconia Ridge Parkway. Look for Lafayette Place parking lot (there is parking on both sides of the highway).
HIKE LEADER: Deb Hann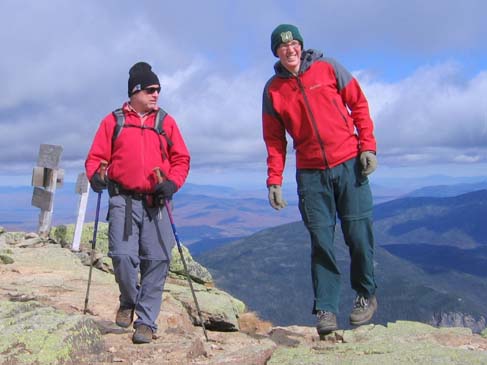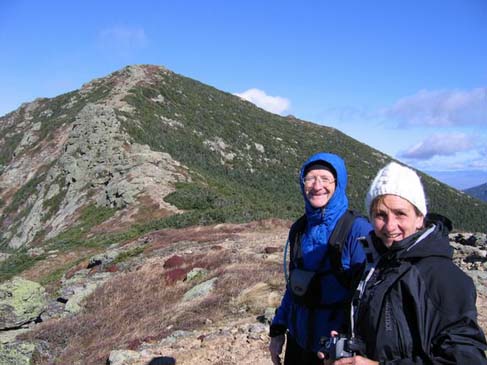 Trail Report
On Saturday, October 11, seven hikers and two dogs left Lafayette Place parking lot (the trailhead) at 8 a.m. We later met up with two more SDHers who had a later start. Thanks for co-leader Diane who lead the hike, and all who waited or started down to hook up with me. I actually did some extra mileage thanks to my dogs who seem to make friends wherever they go. I was not about to miss the spectacular day of ridge walking, so I headed up Falling Waters Trail approximately 1-1/2 hours behind the group.

I thought I would catch up with Faye and Mark, but I never did. Faye must be working out! The trails were busy. One park ranger I spoke with said they expected 300-400 hikers on the ridge on Saturday. I believe it and think I met most of them! Foliage was bright, the sky was blue and there was an occasional high cloud. We were treated to the soft "whoosh" of a glider on the ridge. If I hadn't been too tired I would have gotten pix. It was a great day in the Whites for me, and I learned how to curse my dogs in French! The rest of the group stopped for Nachos and brew before heading home. Not bad, eh?!

-- Deb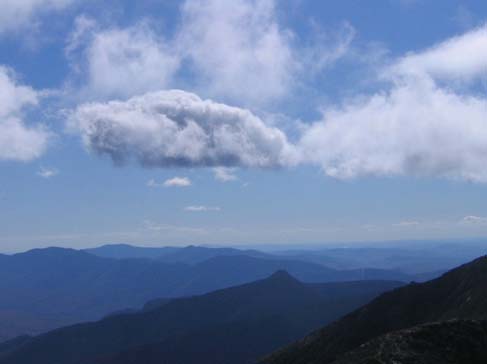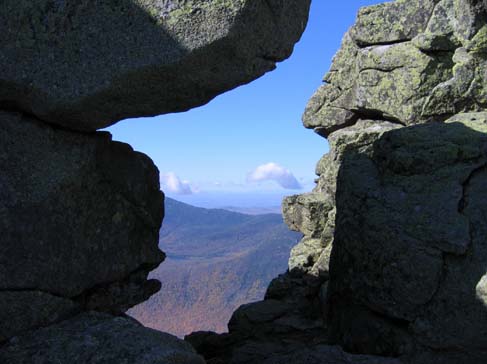 As usual Deb did a fantastic job in setting us up for a fabulous hike. She picked the peak foliage weekend of the season (and a clear, dry, sunny day) and got us off to an early start so we could park in the lot and not off-road.

Deb had a significant delay with the dogs heading downtrail after the first mile so she had to doubleback. We didn't find out until we were 3/4 of a mile from the first peak. This put her 1 to 2 hours behind us and it didn't seem feasible to hold up everyone that long. Jack was able to go back up to the trail junction at the end of the day and speak to people coming down the trails to get a read on where/when Deb and the dogs had been spotted. At the bottom we wrote her a note to remind her of cell phone numbers and to let her know we were headed for snacks in Waterville Valley. Later we got a call from her that she was out.

We had a member on their first SDH hike and they sure did get quite the inoculation with regard to carpooling and how we go at our own pace yet still manage to maintain some accountability as a group.

-- Diane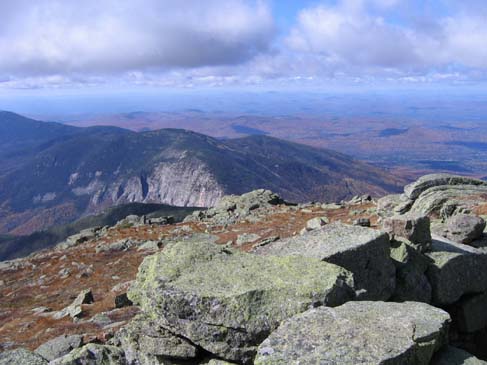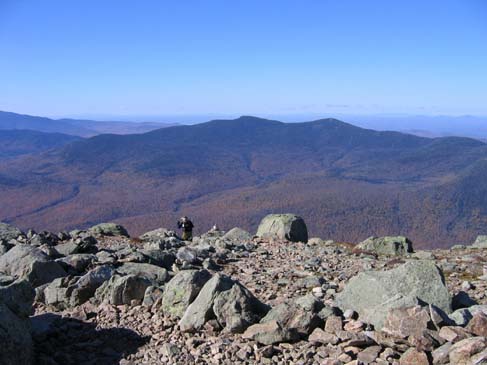 More Photos
Members may see more photos in our online photo album.