Flat Mountain Pond, February 3, 2007
Preview
Our next hike is going to be led by Faye, here is her preview:

We will be hiking to Flat Mountain Pond on Saturday, February 3. Hopefully, there will be enough snow for us to use snowshoes, but stabilicers or yaktrax for traction might be required instead. Bring everything and we can make better decisions at the trailhead.

This hike will be 8 miles round trip, with about 1,300 feet of elevation gain. The majority of the hike follows an old lumber railroad bed, so the climb is very gradual, with only a few short steeper areas near the beginning. There are several brook crossings, and some waterfalls on the way, so cold and ice will make it more scenic.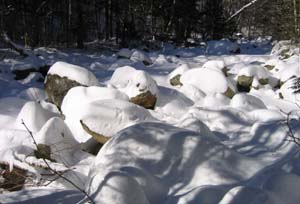 We will turn around at the south end of the pond, since extending the trip along the pond might make too long a day. There is a 3-sided shelter at the pond. The trail actually continues north along the pond and to the east, ending at the other end of Bennett Street. Don't make the mistake of trying to start from that end of the trailhead, since we won't be there.

We will start on the Bennett Street Trail. That follows a brook for 1.6 miles from Jose's Bridge at the west end of Bennett Street off Whiteface Interval to Flat Mountain Pond Trail. The pond and shelter are another 2.4 miles down Flat Mountain Pond Trail. We'll stop and eat and then turn around and head back. Since it is an out-and-back trail, we could turn around at any point if the weather or footing is bad.

We can meet at the trailhead at 9:00 am. I would plan for 6 hours. It's always harder to judge the time in winter, since there are more variables. Bring layers of clothing, plenty of food, and consider a thermos of hot drink or soup. The days will be getting longer, and we should be done well before dark, but you could bring a headlamp.

We won't go if the driving is bad, although I don't mind hiking in light snow. Bitter cold or rain/wet snow or high winds will cause me to postpone.

NEXT HIKE: February 3, Flat Mountain Pond
MEETING SPOTS: Puffin Stop (corner of Routes 109 and 16): 7:30 a.m.
McDonald's at the corner of Route 16 and 25, leave at 8:30 a.m.
TRAILHEAD: Whiteface Interval off Route 113A west of Tamworth, 9:00 a.m.
HIKE LEADER: Faye Doria
Trail Report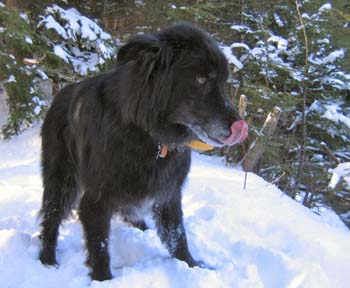 Last weekend Faye led the Flat Mountain Pond hike, here is her report:

The hike to the Flat Mountain Pond shelter could be turned into a book in the Series of Unfortunate Events. First, it snowed overnight, leaving the roads a mess. We all missed the 100-vehicle pileup on Route 93, but did get caught behind snowplows and slow drivers. I got to the first meeting spot late, and missed one hiker there. Sorry.

There was another hiker waiting at McDonald's in Ossipee, and she said two other hikers were on their way. They finally arrived, and said they had seen another hiker on the way, but we decided he was headed straight to the trailhead. I knew another person was planning to meet us at the trailhead, but we still missed someone else who was waiting there.

We caravanned to Bennett Street, missed the left turn to the trailhead since it wasn't plowed yet, and had to turn around at another unplowed area. The last half-mile to the trailhead hadn't been plowed, but we put our vehicles in 4WD and charged ahead, hoping no one would get stuck.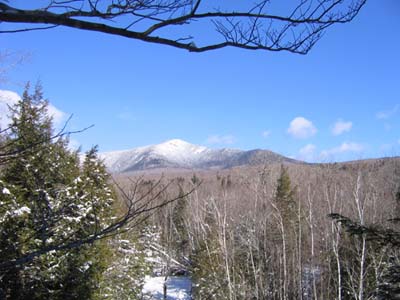 The two people who we expected to meet at the trailhead decided not to try to unplowed road, but they managed to find each other and did their own hike.

The third missed hiker also hiked, but wished he had his new snowshoes with him after he got a few miles down the trail.

The other five of us bundled up and starting hiking the flat half mile in the 6-8 inches on new snow to the actual trailhead. We took turns breaking trail, but it was still hard going. One opted for snowshoes, two had stabilicers, and the other two went in bare boots. Nobody changed their footwear, so we were happy with our choices.

We followed the Bennett Street Trail for 1.6 miles along the bank of a mostly frozen brook. It was beautiful in the new snow, which was only broken by a set of moose tracks. But there was lots of ice hiding under the snow, with one particularly spectacular slide down a frozen waterfall to the (luckily) frozen brook. That was immediately followed by the slippery face-plant of another hiker. The rest of us were much more careful crossing the ice in that area, and managed to get through without further embarrassment.

We then met a couple and their dog who were coming down the trail. They had spent the night at the Flat Mountain Pond shelter. It was a little easier walking from that point, since there were three sets of feet that had already packed down some of the snow.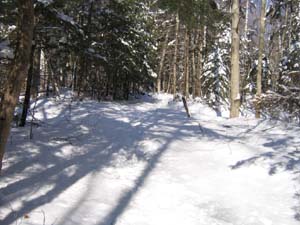 We climbed a steep slope to the Flat Mountain Pond Trail and turned right. This is an old railroad bed, so the slope was more gradual. However, the wind was picking up, and each step was still an adventure. You never knew if your foot was going to land on packed snow, solid ice, a rock, a root, or in a hole. We went about a mile and a half on this trail to a 180-degree turn next to a frozen marsh.

We decided we were all about ready to turn around, even though we might be less than a mile from the shelter. So we went back to a sunny spot out of the wind and had our lunch. The trip down was less eventful. No one fell at the treacherous waterfall, since we walked on the ice of the frozen brook instead. We noticed then that the moose had also chosen that route - so maybe we should have paid better attention the first time.

The good news is that everyone got home from the hike, even though the road and parking area still had not been plowed. Our group hiked about 7 miles, and did all but the last 150 feet of elevation gain. We agreed it was a nice day out in the mountains and fresh air.