Deering Sanctuary, December 15, 2007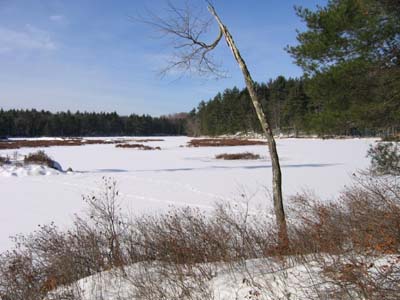 Preview
One more scheduled hike for 2007, Reinhild is taking us to the Deering Sanctuary - here is her preview:

Another rambling country walk by a pond and through fields and woods. Kind of a backwards hike, since we start at the height of the land and then hike down and back up to the cars. With the snow we may want to bring snowshoes -- the terrain is too rough for x-country skis. I estimate 4-5 miles tops, so maybe 3 to 4 hours total. We meet at the trailhead in Deering, which is a bit hard to find, and since the access roads are not paved and a bit steep, fresh snow or ice could cancel this hike. I will be checking on road conditions a few days beforehand and sending out an email if the roads are bad.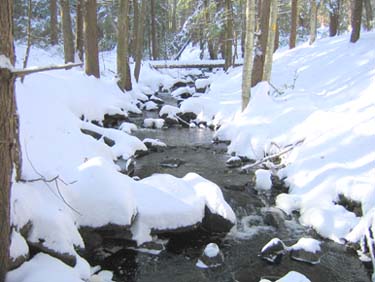 NEXT HIKE: December 15, Deering Sanctuary
MEETING SPOTS: Park and Ride, exit 2 off of Rt. 89 at 9:15 a.m.
Deering Sanctuary at 10:00 a.m
TRAILHEAD: From the center of Hillsboro, go south on Rt. 149, then after 1 mile turn left onto Clement Hill Road. After 1.5 miles (you are now on dirt) turn right at a big sign. Go sharply up a hill. The parking area is at the height of the land on the right after less than a mile.
HIKE LEADER: Reinhild Davis
Trail Report
Last weekend Reinhild took us on a terrific snowshoe at Deering Sanctuary, here is her review:

Somewhere between the many snowstorms, five hikers managed to get in a four-hour snowshoe walk in a beautiful snowy winter wonder landscape. The temperature was in the teens the whole day, so we took short breaks, several times along the way, eating a quick lunch at a trail crossing.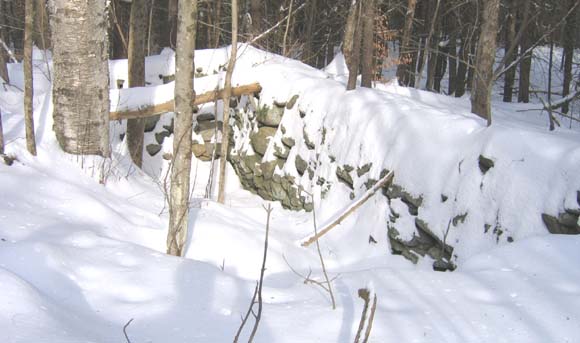 The last trek uphill on the R.E. Clement path, which took us back to the road, was a good uphill workout. I estimate we did about 4 or 5 miles or so. After wishing each other Happy Holidays, we departed to ready ourselves for the next storm.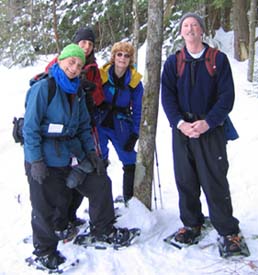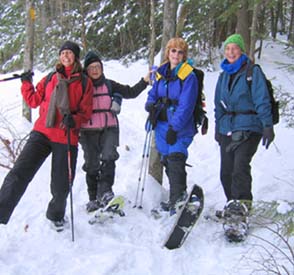 More Photos
Members may see more photos in our online photo album.