Carter Notch Hut, January 13, 2007
Preview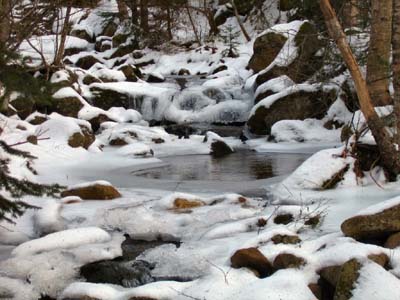 Hike in 3.8 miles via Nineteen Mile Brook Trailhead to Carter Notch Hut for lunch. If we're lucky, there may be a pot of hot water on the stove at the hut.

We'll return same way. Overall, it's not very steep - gain is probably less than 2500 feet. We aren't bagging a peak but we are in between peaks so terrain is rugged. You will need traction. i.e. stabilicers, crampons, yaktrax and hopefully snowshoes. Ideally bring a pair of snowshoes and one of the above. There is one tricky water crossing. It gets quite windy and cold the last half hour before the hut even on a mild winter day; handwarmers and headgear can help. Headlamps advisable.

7.6 mi round trip allow at least 6 hours.

NEXT HIKE: January 13, Carter Notch Hut
MEETING SPOTS: Exit 14 off of Rt. 93, LL Bean/Hannaford side, Concord at 6:00.
Puffin Stop in Wakefield (junction of Rt. 16 and 109) at 6:45.
McDonald's in West Ossipee (junction Rt. 25E and 16): between 7:30-7:45
Nineteen Mile Brook Trailhead at 8:45
TRAILHEAD: From the junction of Rt. 302 and Rt. 16, follow 16 North heading toward Pinkham North. After you reach the Mt Washington Auto Road it is about another mile to Nineteen Mile Brook Trailhead which will be on your right.
HIKE LEADER: Diane King
Trail Report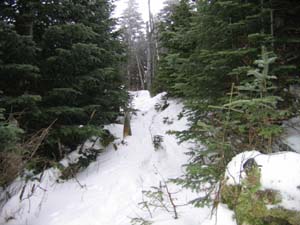 Last Saturday Diane took us on a wonderful winter hike, here is her review:

Three people showed for the Carter Notch Hut hike at the West Ossippee meeting point.... we all decided if no one else came to the trailhead to make the trip a little longer and challenging . Why not take advantage of the mild weather and low chance of precipitation. It was dry and about 30 degrees at the trailhead when we departed around 9:00.

We put on stabilicers or yaktrax pretty much from the beginning and kept them on. The trail was slush for the first 1/4 mile then patches of ice/snow which gradually progressed to a few inches of soft snow over hardpack. We enjoyed 1.9 miles of flat terrain to the junction of 19-Mile Brook Trail and Carter Dome Trail. Instead of heading straight up to the hut we deviated left onto Carter Dome Trail. We weren't sure whether we wanted to do just Mt. Hight or add in Carter Dome for a loop hike.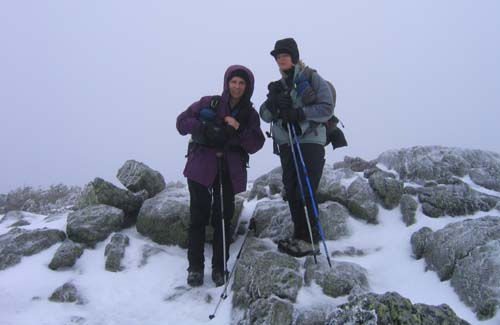 Prior to the pass it gets steeper and we had two easy water crossings. There were plenty of switchbacks and we were relieved to get to the pass for a rest and food. Temps fell to 20 degrees. We were eager to move and climb some more just for the sake of getting warm again. We followed Carter Dome Trail another 0.2 mile to the Mt. Hight Junction sign and went up the grueling 0.4 steep ascent to the peak. Snow on the trail was about 5-6 inches - no drifting and little ice. We got to the socked-in cloudy, windy summit of Mt. Hight at what hikers we met at Zeta Pass referred to as "the best views in the Whites" - go figure?

Down we go back to the pass for a break and out the same way we came with a wonderful view of the brook to enjoy on the way as water swooshed through ice and snow. We got down around 3:15 and headed over to Pinkham Notch Visitor Center for some hot beverages before hitting the road home.