Mt. Carrigan, October 14, 2006
Preview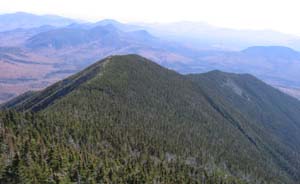 Next, Deb is taking us to Mt. Carrigan, here is her preview:

We will make our ascent and descent to the summit of Mt. Carrigan via the Signal Ridge Trail. This will cover 10 miles in approximately 8.5 hours. This trail climbs moderately for most of its distance. The view from the observation tower on the summit offers a great view of the Presidentials. Should be a great way to enjoy the foliage!

NEXT HIKE: October 14, Mt. Carrigan
MEETING SPOTS: Puffin Stop (corner of Routes 109 and 16): 7:00 am
LL Bean (Exit 14 off 93): 6:15 am
TRAILHEAD: 2 miles down Sawyer River Road (off 302). Parking lot on left just beyond bridge over Whiteface Brook. Trailhead is on right just before bridge. 8:30 am
HIKE LEADER: Deb Hann
Trail Report


Deb took us on a nice clear and crisp October hike, here is her review:

Eight hikers and one dog made the 5 mile ascent to the 4700 ft. summit of Mt. Carrigan. We left the parking lot at 8:30 to maximize our daylight hours. After some up, up, up we snacked at a nice sunny rock that offered fabulous views of the Presidentials. Mark M. reported the temperature to be a balmy 48 degrees. Most of the trees have exfoliated, but there are still some patches of color that take my breath away. (Well, that's my excuse anyway). We made our final ascent the last stretch up the peak to the observation tower. From here, there are 360 degree views.

We stayed briefly to catch some rays, then climbed back down to our sunny rock for dessert. Then we began our final descent to the parking lot (down, down, down). The last hikers hit the parking lot at 3:45, making our total time a little over 7 hours. We found that it takes hiking 2 strenuous trails 2 days in a row to slow Faye and Mark's pace (just a bit). We are still trying to figure what is in that inhalor Claudette uses!! Great hike on a great day!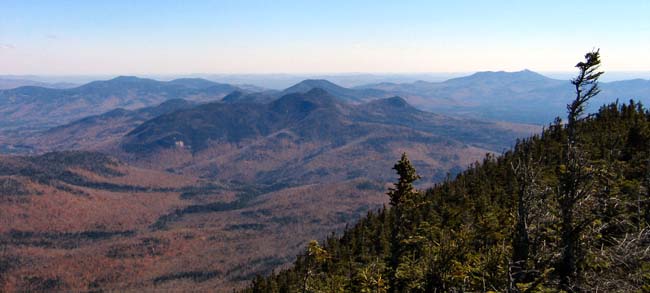 More Photos
Members may see more photos in our online photo album.