Mount Cardigan and Orange Mountain, June 21, 2008
Preview
NEXT HIKE: June 21, Mount Cardigan and Orange Mountain
MEETING SPOTS: Rite Aide Farmington Rt 11 at 7:15 a.m.
Exit 14 off of Rt. 93, LL Bean/Hannaford side, Concord at 8:00 a.m.
Cardigan Lodge at 9:30 a.m
TRAILHEAD: Directions to AMC Cardigan Lodge from 93:
Take Interstate 93 North Take Exit 23 to Route 104 West.
Take Route 104 West about 6 miles to Route 3A North in Bristol, N.H.
Take Route 3A North toward Plymouth for 2.1 miles.
Turn left onto West Shore Road at the blinking light (Our Lady of Grace stone church is on the far left corner).
Proceed 1.9 miles and then go straight onto Cardigan Mountain Road where West Shore Road turns right.
Go 1 mile on Cardigan Mountain Road, then turn left onto North Road.
Go 1 mile on North Road, then right onto Washburn Road in Alexandria, N.H.
Go 200 yards and bear right onto Mount Cardigan Road.
Follow Mount Cardigan Road for 3.6 miles, and stay left at the intersection with Brook Road.
Take Shem Valley Road 1.5 miles to Cardigan Lodge (stay right at the fork in the road at 100 yards).
HIKE LEADER: Sue Murphy

Trail Report
Quite a group (17) met at the AMC Cardigan Lodge to ascend Gilman/Orange Mountain. We started on the Woodland Trail, around the pond, through the woods and on to an old logging road. After a mile or so, a sign for the Clark Trail could be seen through the brush and bore to the right (easily missed if one was not paying attention). Shortly after this point the trail began to climb steeply and met with the Vistamont Trail which continued to climb over a low ridge, then down, down, down to cross the Clark Brook then immediately climbing steeply again to open ledges on to the Skyland Trail.

At some point we reached Orange Mountain where we rested a bit and enjoyed the excellent views. The trail descended to a col then climbed fairly steeply to Rimrock where a group headed off to summit Cardigan and a group stayed and ate the remainders of their lunches.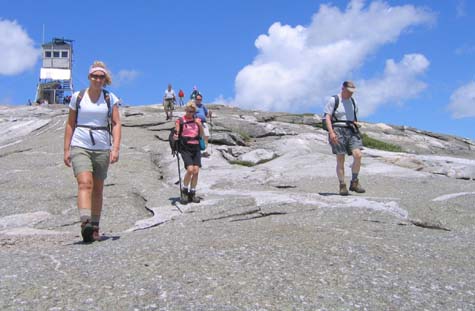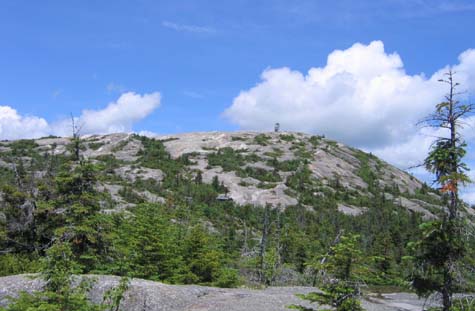 From Rimrock we walked to South Peak just below Cardigan. We were able to discern the group heading to Cardigan off in the distance and 'high fived' with our poles. The day was glorious and the views spectacular.

We would have gladly stayed there for the remainder of the afternoon...but, unfortunately other duties and obligations called... so down the Clark Trail where we met up with an AMC group (40++ from Andover) and on to the Holt Trail and back to the lodge where the "mountain goats" waited on the lawn for those of us a bit slower.

I think everyone agreed it was a great hike and a challenge despite it not being a 4000-footer. There are several peaks including Cardigan that offer excellent views on the two long ridges that run easterly toward Newfound Lake. The area is worth exploring for future SDH hikes. Thank you everyone for a wonderful day!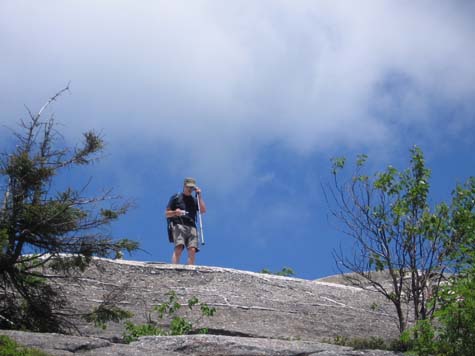 More Photos
Members may see more photos in our online photo album.