Blueberry Mtn. (Evans Notch), October 13, 2007
Preview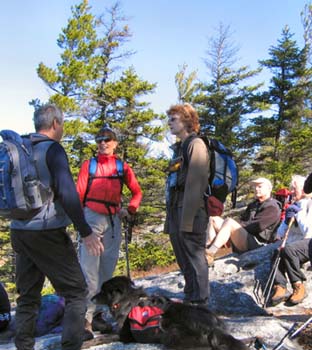 Next on the schedule is Dennis taking us to Blueberry Mtn; see his preview:

We moved this hike to Oct. 13 from October 6th because would have had to pass through the Fryberg Fair traffic. Not a pleasant thing.

We're going back to Evans Notch. This is a fairly easy 7.6 mile loop hike with not a lot of elevation gain. Blueberry Mtn. (1781 feet high) at the top is one long ledgy ridge with numerous views along the way. We can if we want by adding another mile tackle the giant (2906 feet) Speckled Mtn. with excellent views all around. We'll decide then.

We'll be taking the Blueberry Ridge Trail up and loop down by the Bickford Brook Trail. No need to spot cars. Hopefully we'll have nice foliage and good weather.

NEXT HIKE: October 13, Blueberry Mtn. (Evans Notch)
MEETING SPOTS: Mobile station in Wakefield (junction of Rt. 16 and 109) at 8:00 a.m.
Brickett Place Parking Area at 10:00 a.m
TRAILHEAD: Brickett Place Parking Area, Evans Notch, ME. Go right after passing Cold River Campground at the basin.
HIKE LEADER: Dennis Marchand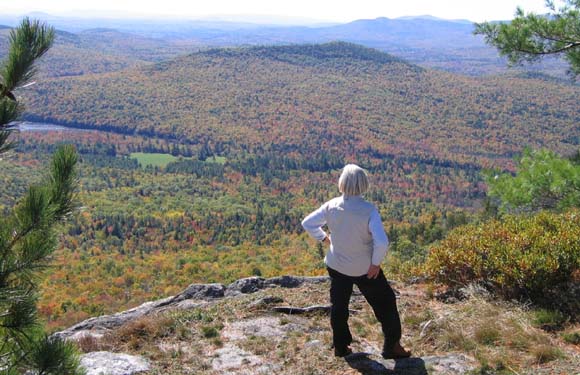 Trail Report
Dennis took us for a colorful hike to Blueberry Mountain, here is his report:

Ten dayhikers and one dog (Midas) had a great day hiking Blueberry Mtn. in Evans Notch. What a nice drive on a beautiful day. The drive along Rt. 113 to the notch is very rural and colorful and it seems so relaxing to be there. There's a wonderful farmhouse for sale if anyone is interested. It had lots of wild turkeys in the yard. I'm glad the weather man was wrong again, blue sky with lots of sun, nice temperature and not so windy.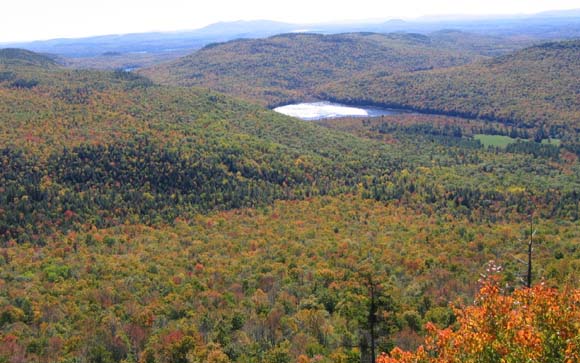 This hike had more steepness then I remember from the last time; is it my memory or did the mountain grow? There's a beautiful outlook on top overlooking Shell Pond, our lunch spot. Then onward and upward. This has a nice ridge walk with many good views. We skipped the summit of Speckled Mtn.

On the way down Midas got lost for a bit but a happy ending for Mary. A little over 6 hours on the trail but we had a nice long lunch and many more stops for the views and breathing.

Hoping for one last ice cream stop but it wasn't meant to be. Time to find a new indulgence.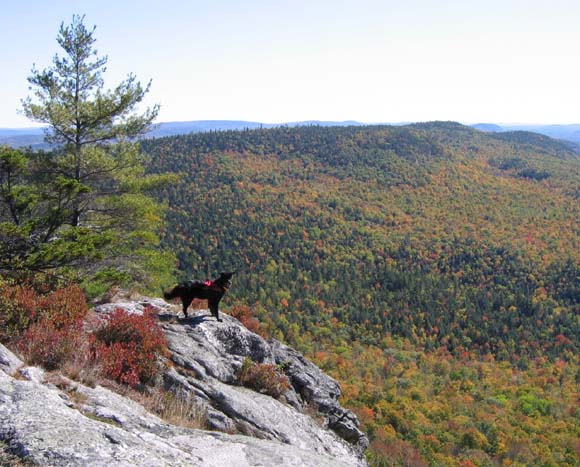 More Photos
Members may see more photos in our online photo album.