Black Pond and Franconia Falls, May 12, 2007
Preview
Next on the schedule is our Secret Hike, Sharon is taking us to ?????. Here is her preview: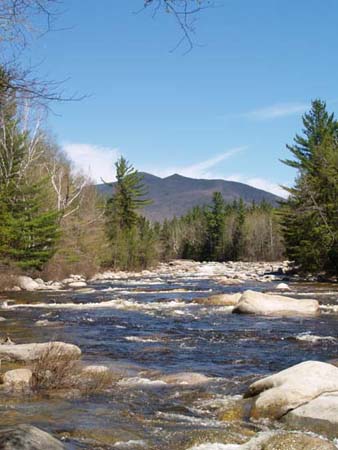 This will be an easy, mostly-flat hike. Each hiker will have his/her choice of 3 different possible routes (largely overlapping each other) for a total mileage of somewhere between 6.6, 6.8, or 8.0.

Meet in front of the cabin in the Wilderness/Lincoln Woods Trailhead parking lot at 11:00 a.m. Take exit 32 off of I-93, then head east for about 4 or 5 miles on Rt. 112. The parking lot will be on your left just after the highway bridge over East Branch.

NEXT HIKE: May 12, 2007
MEETING SPOTS: On 93 N, exit 14 by LL Beans at 9:40 a.m.
Exit 23 at the Irving Station at 10:00 a.m.
TRAILHEAD: Wilderness/Lincoln Woods Trailhead parking lot at 11:00 a.m.
HIKE LEADER: Sharon Sierra
Trail Report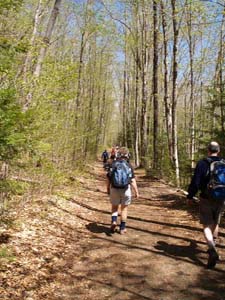 Last weekend Sharon took us to Lincoln Woods, here is her review:

On Saturday, May 12th, we explored the Lincoln Woods Trail - a first for many of us. Eight people and one dog set out along the wide, almost-level, mostly-straight Lincoln Woods Trail to check out two delightful destinations: Black Pond and Franconia Falls.

We started out by crossing a long suspension bridge over the East Branch of the Pemigewasset River. The river flow was high with lots of white water as the water splashed over and around boulders of various sizes.

I had heard the Lincoln Woods Trail can be quite a mob scene, but perhaps since we were still a bit off-season it was a very peaceful trail and we only encountered a handful of other parties along our 8-mile trek. The East Branch as well as some tributaries accompanied the trail for much of the route. Through the partially budded leaves we could see the river raging along. A few times spur paths led closer to the shore and in one spot, the trail itself went right to the shore providing a great view of the wide river as well as the Bonds rising above it. In other places, peaceful and enticing small streams ran along the opposite side of the trail.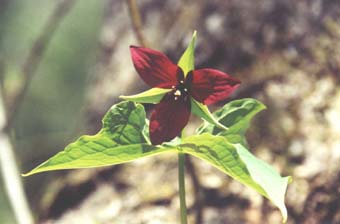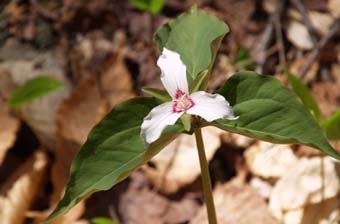 The trail was bordered with hardwoods, white pines, and hemlocks. Growing close to the ground we discovered wintergreen (evergreen leaves which smell like wintergreen) and wild oats (plants with a single, nodding, pale-yellow flower). We also saw many red trilliums (they are called "red" but are actually closer to a deep maroon color). And we saw many painted trilliums. The painted trilliums are white with a V-shaped splash of red or pink near the center.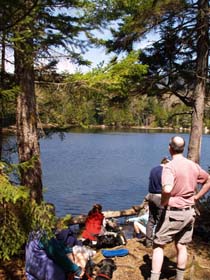 There were a few patches of low-growing wood anemone: bright white flowers growing amongst a dense patch of green leaves. And we saw one tiny white violet. Goldthread, an evergreen plant with ground-hugging, dark-green leaves, was growing in abundance but not yet flowering. I found one grouping that had stems shooting out above the leaves with tiny buds at the tips.

After 2.6 miles along the main trail, we turned onto the Black Pond Trail. This was a narrower trail, often running along Birch Island Brook and included a view of some nice cascades. At the end of this 0.8-mile trail we reached Black Pond: a tranquil pond enclosed largely by conifers with the double-peaked ridge of Bondcliff visible across the water.

We settled in at the small clearing at the shore and hungrily devoured our lunches. Jack found some moose prints nearby. We also saw some moose prints on the return trip on the main trail.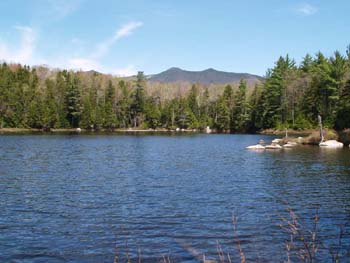 Next, we retraced our steps back to the main trail continued for another 0.2 mile to reach the trail to Franconia Falls as well as another long bridge; this one crossing Franconia Brook. The brook was also running high and swift with lots of white water. We admired the views from the bridge, then turned back to follow the trail to Franconia Falls. This was a pleasant 0.4 mile spur leading to some great cascades and very large boulders scattered throughout the stream. We hung out here for a while, basking on the sunny rocks and taking in the chaotic yet gorgeous views of the water dancing over the boulders and racing downstream.

Finally, we packed up and retraced our footsteps back to the parking area. The whole day was sunny, about 60 degrees, and had refreshing breezes. And totally bug-free. I don't think we could have asked for a more perfect hiking day. And great hiking companions of course. :)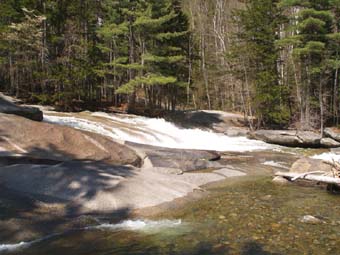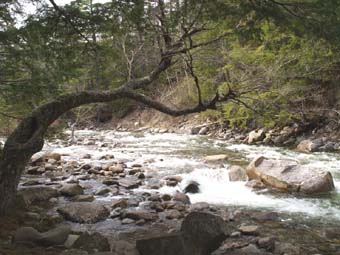 More Photos
You may see more photos (along with the trip report) here.