Bear Brook State Park, January 1, 2009
Preview
Well, the mystery is over. This year we will hike/snowshoe in Bear Brook State Park. We will hike the Catamount Trail, which is described as a family walk to a low summit. The trail is generally easy, but moderate up Catamount Hill. I plan to do a loop, which is 4.3 miles (includes Cascade Trail). Those who chose a shorter hike can do 2.6 miles round trip to Catamount Hill. This is a good hike for all, a nice chance to break in new winter gear!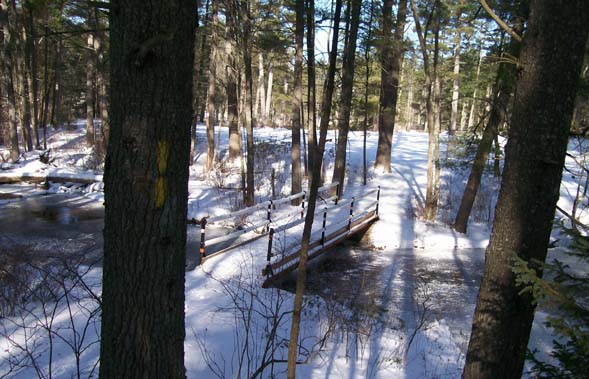 NEXT HIKE: January 1, Bear Brook State Park
MEETING SPOTS: Exit 14 off of Rt. 93, LL Bean/Hannaford side, Concord at 9:30 a.m.
TRAILHEAD: The access road to the park is off Rt. 28, 5.6 miles south of Epsom Traffic Circle and Rt. 3. A large sign marks the turn onto Allenstown-Deerfield Road. Look for park tollbooth on the right side of the road. A large parking area for the picnic and beach area is on the left immediately past tollbooth. The trail begins just to the right of the driveway as you enter the parking lot.
HIKE LEADER: Deb Hann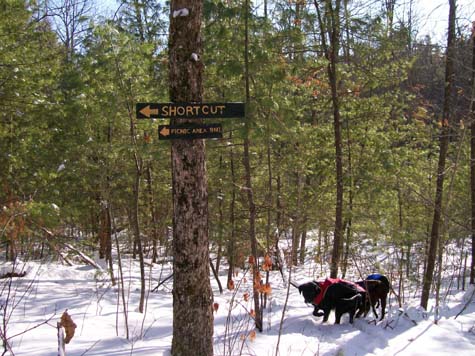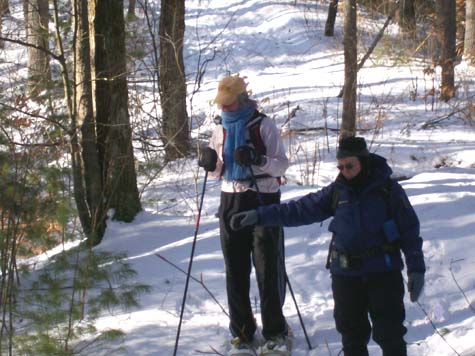 Trail Report
On 1/1/09 eight hardy hikers (and 2 dogs) braved sub-zero wind chills to ring in the New Year. We left Bear Brook State Park parking lot around 10:00 (takes time do get dressed!).

After starting off in the wrong direction, we headed for Catamount Trail. I just wanted to move; I didn't care what direction. As long as we kept moving, we were warm. The winds were howling, and we were thankful for any protection the trees provided. The trail blazes were hard to see, and we weren't really sure what trail we were on (that's my story and I'm sticking to it!).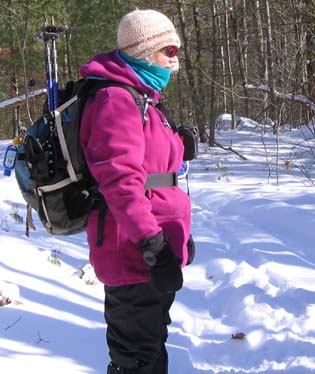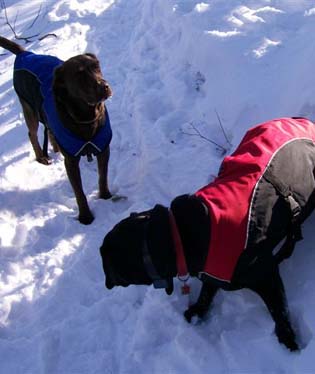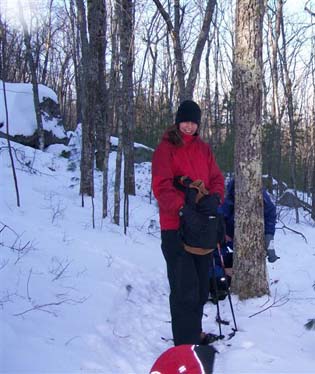 Thanks Faye for bringing a good map and your orienteering skills! We opted to turn back after reaching height-of-land to avoid getting too far off track. We started down the Catamount Hill Trail 2.6 miles to the parking lot.

Cheryl provided some comic relief after her water bottle leaked and formed icicles down her backpack and the hem of her jacket (see photo) as testimony to the 11-15 degree temps! We opted for a shortcut to the parking lot and walked a trail that followed a brook. We arrived back at the parking lot 2+ hours later happy to warm up our cars and seek shelter from the wind.

Happy New Year to all!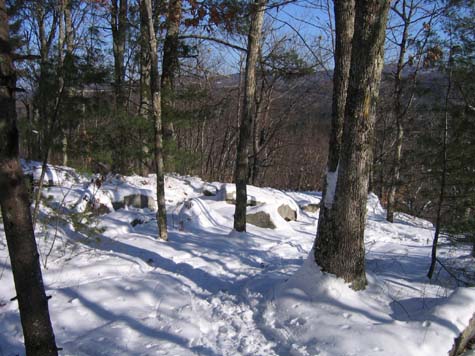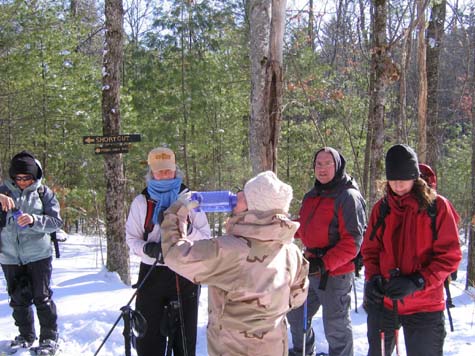 More Photos
Members may see more photos in our online photo album.