Bald Knob, April 8, 2006
Preview
The Lakes Region Conservation Trust bought The Castle in the Clouds and opened many of the carriage roads for hiking. Here is a long, but easy, hike with great views to kick-off the season.

We will take the Shannon Brook Trail to the Turtleback Mountain Trail. Shannon Brook Trail has a steady but moderate climb - probably the worst part of the whole trip is the first half mile. Once we cross the brook and have a view of the Castle on the next ridge, the trails are quite easy. A half-mile down the Turtleback Mountain Trail is a short climb up Oak Ridge Trail to a great viewpoint. Turtleback Mountain Trail goes 2 miles through nice woods to Bald Knob Trail. Another level walk brings us to a view from the top of the cliff over Lake Winnepesauke where the carriages used to turn around. Then we can turn and retrace our steps back. If you are adventurous, there is a steep, faint trail leading down the cliff and out to the road. It's another mile down the road to the cars. The steep route is shorter, but quite difficult and takes nearly as long as the easy walk back on the carriage roads.

The entire out-and-back hike will be nine easy miles. Since we will retrace our steps, you can stop at any point and either wait for us to return, or return to your car. But I think you will be surprised at how easy it is after the first half hour. Dogs are allowed on leashes.

NEXT HIKE: April 8, Bald Knob
MEETING SPOT: Puffin Stop in Wakefield (junction of Rt. 16 and 109) at 9:00. Or you can meet us at the trailhead at 9:30.
TRAILHEAD: Trailhead is just east of the Castle in the Clouds entrance on Route 171 between Moultonboro and Tuftonboro. There is a large well-marked parking lot with a porta-potty, on the south side of the road. The trail leaves on the north side of the road.
HIKE LEADER: Faye Doria
Trail Report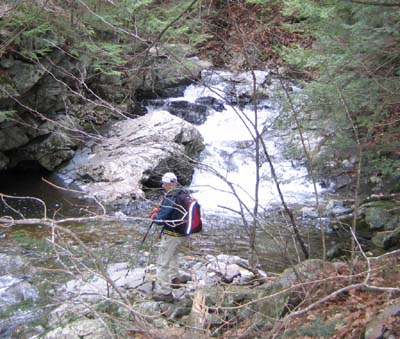 Great hike to open the season, thank you Faye. Here is Faye's hike review:

It was a promising start to the hiking season as seventeen hikers showed up to hike to Bald Knob on the grounds of the Castle in the Clouds. There were lots of familiar faces, we were joined by quite a few new friends. We also had several hikers from Go New England, which I invited through their website.

We got great news in the parking lot as we were adjusting packs and tying shoes. Sal's friend Dave Roberts (whom you may have met at the fire tower on Mt. Belknap) came by to tell us of a new trail he had blazed that would cut two miles from our planned hiking distance.

We started off on a steady uphill along a rushing brook, which had a bridge crossing, and came to our first view of the Castle on the opposite ridge. It was built by an eccentric millionaire around the turn of the last century and has many interesting features. He was an immigrant who built a fortune and then lost it all before he died. But we thank him for finding and preserving the beautiful area that we were in.

The trails were muddy in places, but the ice I remembered from a month ago was long gone. We got to the first overlook after climbing nearly 1,000'. It was overcast and windy, but the view south over Lake Winnepesauke was fabulous.

We continued east over fairly flat carriage roads to a series of snowy switchbacks which took us up another 200'. These took us to the Bald Knob trail and another viewpoint where the carriages turned around on the top of the cliff. It was still windy so we retreated from the top of the cliff to a more sheltered spot for lunch and a rest.

Then we headed off onto the new Bald Knob cutoff trail which was more traditional New England hiking than the carriage roads we had been walking on. This trail led up and down, past another viewpoint, and nearly back to where we started. It was just a short trip downhill to the parking lot.

Everyone made the seven mile trip and seemed glad to have been able to get out and enjoy the early spring, trading a little mud for no bugs.

It was so early in the season that there weren't even any ice cream places open for our traditional post-hike treat. Let's hope that changes soon.