Arethusa Falls & Frankenstein Cliffs, February 21, 2009
Preview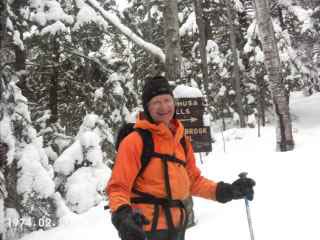 We are going to hike to Arethusa Falls and then complete the loop around Frankenstein Cliffs. The total loop will be just under 5 miles with elevation gain about 1400 feet. Plan on the total time being 4 hours.

Bring appropriate traction: snowshoes or something spiky will work fine.

NEXT HIKE: February 21, Arethusa Falls & Frankenstein Cliffs
MEETING SPOTS: Exit 14 off of Rt. 93, LL Bean/Hannaford side, Concord at 8:00 a.m.
Mobile station in Wakefield (junction of Rt. 16 and 109) at 8:30 a.m.
Arethusa Falls Trailhead at 10:00 a.m
TRAILHEAD: The trailhead is on the south side of 302. From Rt. 3 it is 14.5 miles. From Rt. 16 it is also 14.5 miles.
HIKE LEADER: Mark Malnati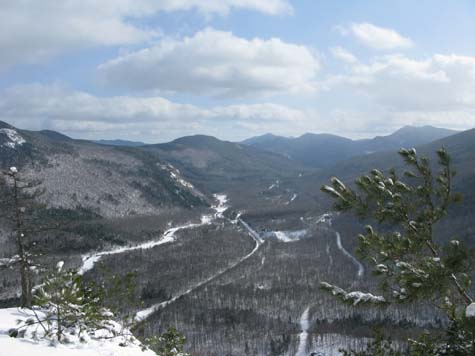 Trail Report
Beneath the Frankenstein Cliffs, eight hikers and two dogs gathered, then prepared for our loop hike. We put our snowshoes on and headed for Arethusa Falls first. The trail was broken in so we followed the footpath to the waterfalls.

At the falls we took a break and watched ice climbers making their way up and down. Once we continued, we found that the rest of the loop had not been hiked recently; with fresh snow it made for tougher hiking. We took turns breaking trail. Jack took the most and the worst of it, plowing most of the elevation gain. We had lunch at a trail junction. There were no logs or rocks to sit on so we just tramped down an area and most of us ate while standing.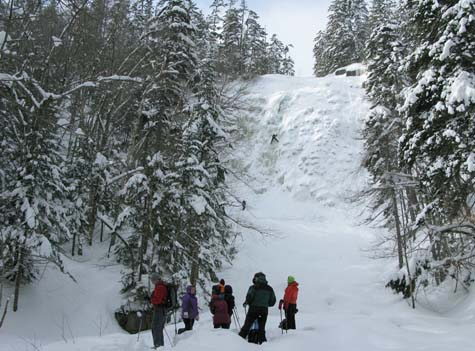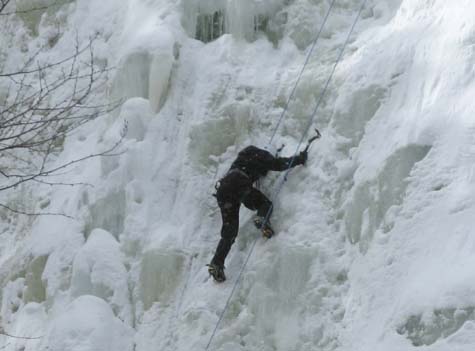 Pushing on, we made our way to the rim of Frankenstein Cliffs. While we were enjoying the views, Quincy decided to have a few looks over the edge -- it's better not to watch! Next we hiked down the winding trail and just as we were saying the worst is over, we hit "the icy spot". We all had our turn at the slow approach followed by an uncontrolled slip and slide, all the while Jack saying, "Try not to hit the tree".

The next stop of our hike was a cliff with beautiful crystal-blue ice formations. They were probably 100 feet tall, and there were several ice climbers preparing to pick their way up. We watched them for a while and then headed on. The next quarter mile we made very good time since we slid most of it. Some were skiing on their snowshoes, some were sliding on their butts; I saw a couple of other interesting techniques.

All in all a good hike and a good time. Special thanks to Jack for his usual extra efforts that are greatly appreciated!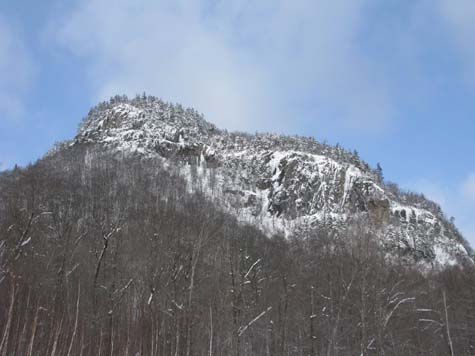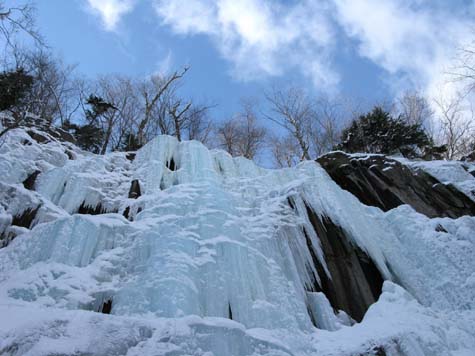 More Photos
Members may see more photos in our online photo album.