Mt. Adams, September 8, 2007
Preview
The hike to Mt. Willard was cancelled at the last minute so instead, Diane King stepped forward and offered to lead an "impromptu" hike to Mt. Adams. Here is her preview:

We will do Adams via Air Line trail - starting early to beat the possible thunderstorms around noon and the sweltering heat.

It is about 4 miles and change up and the same back, pretty steep.

NEXT HIKE: September 8, Mt. Adams
MEETING SPOTS: Exit 14 off of Rt. 93, LL Bean/Hannaford side, Concord at 5:30 a.m.
Air Line trailhead at 7:30 a.m
TRAILHEAD: Located on Rt. 2 in Randolph, at the Appalachia parking lot
HIKE LEADER: Diane King
Trail Report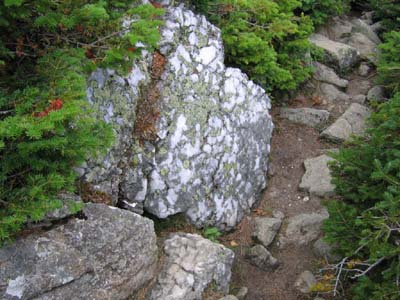 Mt. Adams trail report (and photos), thanks to Mark Malnati:

We were not able to hike Mt. Willard so a couple of us hiked Mt. Adams instead. The hike started off hot and humid in a light rain; the rain stopped after about 10 minutes and we made our way up the Air Line Trail. The 4500' ascent is pretty forgiving with several "breaks" in the climb. Once we left the tree line, we made our way across the Knife-edge; here we had great views of King Ravine and an occasional glimpse of the Madison summit.

From the knife-edged crest of Durand Ridge, there is a trail that seems to drop off a cliff and at that point there is a Randolph Mountain Club sign that calls it the Chemin des Dames. This path was named after a battle in World War I. Going online I found two translations: "the way of the ladies" and "the way of the injuries". I know which I think is appropriate.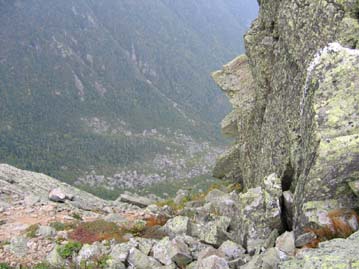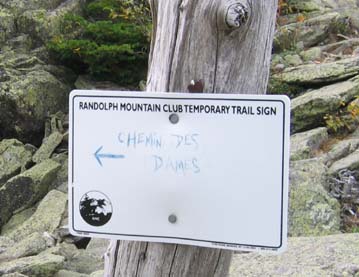 After leaving the Knife-edge we hiked up into the mist - the wind was blowing around 45-50 miles per hour and the visibility was low. We summited Adams, had lunch and headed back down. On the way down we ran into a full class of geology students from Bates College heading to Madison Hut; that was an odd sight! All in all, a great hike - thanks to Diane for organizing it.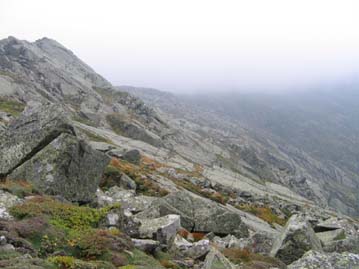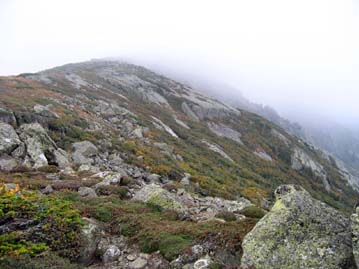 More Photos
Members may see more photos in our online photo album.