Acadia National Park
May 29 - June 1, 2009
(Friday through Monday)
Trail Report
In spite of forecasts jumping back and forth between sun and rain, we had a good showing for the long-weekend at Acadia National Park. Attendees included Diane, Mark, Sally, Deb, Dave, Cheryl, Tom, Donna, and Sharon. Sharon's base of operations was a cheap motel (only $32 a night!) while the rest of the crew camped at Blackwoods. Dave was a good sport, game to camp in spite of recent knee surgery that limited his physical activity.

The rain mostly stuck to the overnights and we were able to experience a lot of fun activities in good weather. Dave did some fishing, and explored the trails around Upper Hadlock Pond, as well as joining us for a few of the less-strenuous summits.

For this trip report, we asked folks to submit their highlights of each day. Below, in no particular order, are the results of that request. Remember to hover your mouse over the photos in order to see the captions and photo credits.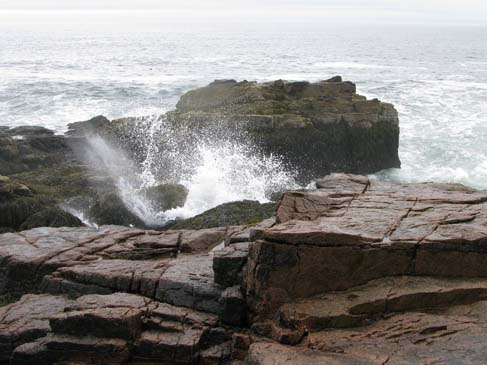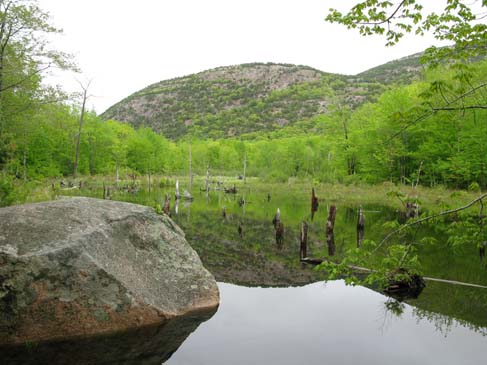 From Mark:

Friday: Reunion at Hadlock Falls.

Saturday: Watching the fog rolling over the islands from Dorr Mountain.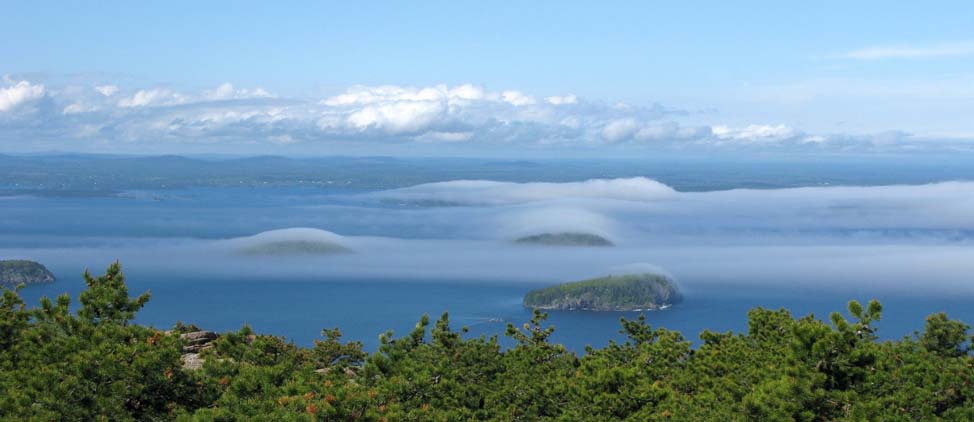 Sunday: Scrambling to the top of Acadia Mountain.

Monday: Watching the sunrise from Otter Cliffs.

Overall: Knowing that there are a few less rocks in Acadia.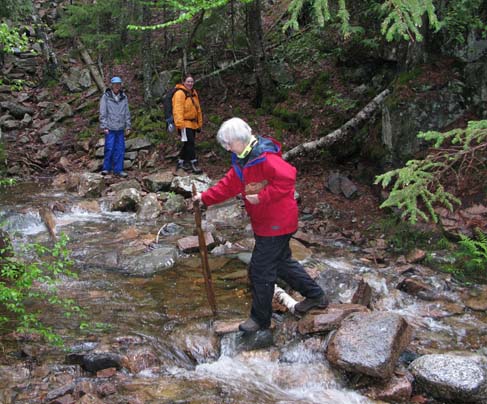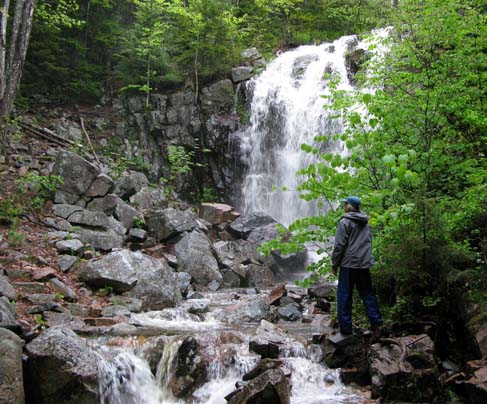 From Sally:
Friday:
Arriving at the campground at various times in the afternoon, we just barely got our tents set up before it really started to rain. Thankfully Dave (who was first to arrive) had set up a tarp over his picnic table that we huddled under while it poured.
We were just about to go into town to look for a warm, dry place to grab a bite to eat, when Sharon pulled up and said, "Today is a perfect day for a waterfall hike!" To which we all initially responded to with a groan, but afterwards were all grateful to her for motivating us to go for a hike. S'mores by the campfire topped off the evening nicely.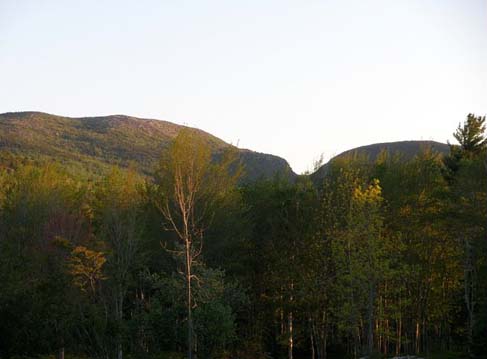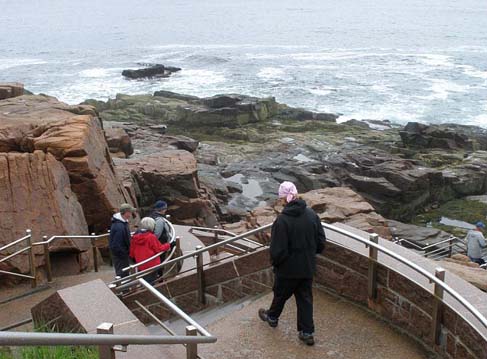 Saturday: We had big plans for Saturday: a bike ride in the morning, followed by a hike up Dorr Mountain in the afternoon. As soon as we left the campground it started to rain. It was pouring when we reached the starting point for the bike ride, at Jordan Pond House. Plan B materialized at that point – we opted to do some sight-seeing/car touring on the Park Loop Road.

We did eventually get a short, but challenging, bike ride in before meeting up with Sharon back at the campground for the afternoon hike. Hot showers at the end of the day were a welcome treat.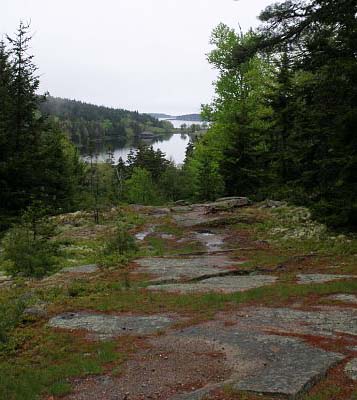 Sunday: After Saturday's full schedule of activities, we decided to just plan one activity for Sunday: a 7-mile loop hike along Somes Sound. This included summiting four "mountains" – all with elevations of less than 700 feet.

The weather was absolutely perfect for hiking, except for some pesky black flies where the wind wasn't strong enough to blow them away. We rested often and took in the beautiful views of surrounding mountains, sea, and islands.

Lobster dinner "off-island" and ice cream in Bar Harbor rounded out the day's activities.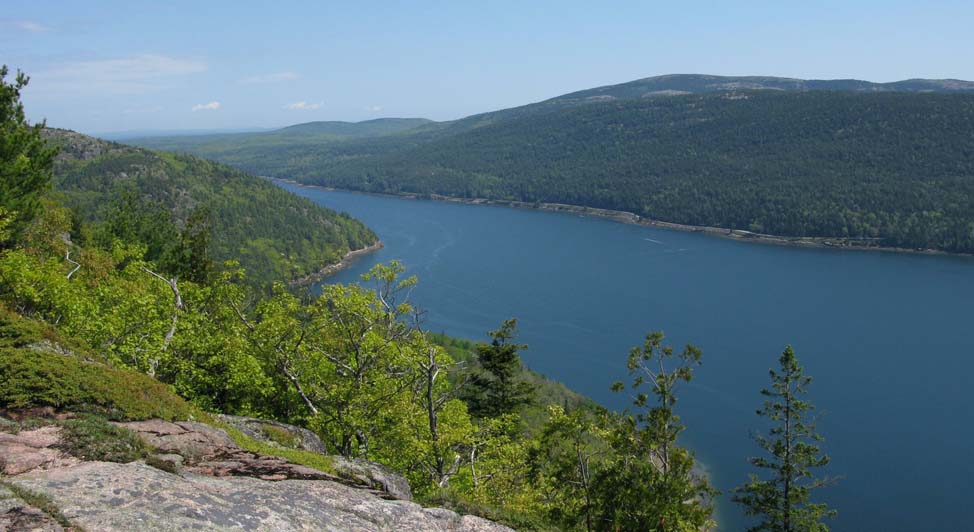 Monday: A couple of early risers were treated to sunrise over the ocean at Otter Cliffs. It was a clear, crisp morning. After breakfast, one-by-one, we "de-camped" and headed back home.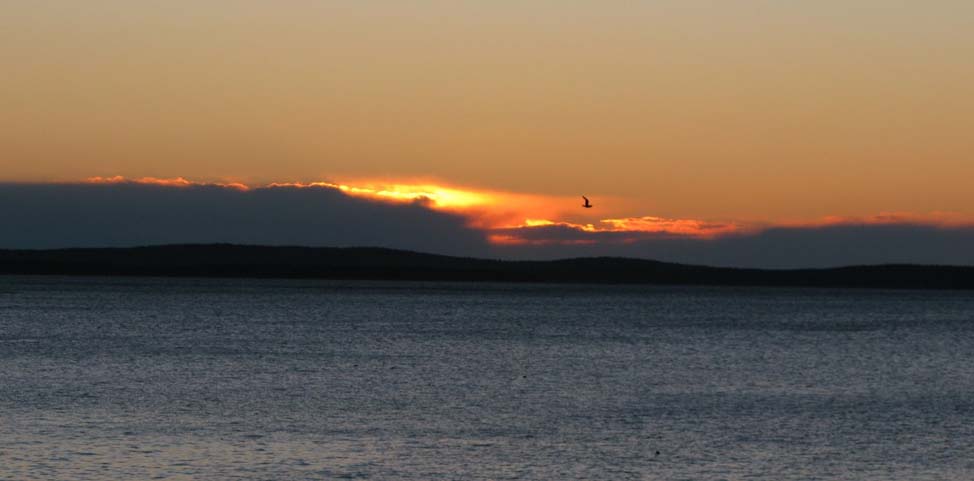 From Deb:

Friday: After the drive in and out of rain, I arrived to find a few other SDHers already at Blackwoods. I decided to get the tent set up, and the rain really started to fall. After getting all unpacked and set up, we were contemplating going to Bar Harbor for dinner to get out of the rain and damp evening.

I was glad that Sharon arrived with some energy to motivate us for a hike. She led us to a great waterfall hike through the woods. The rain let up, and we returned to the campsite for a nice fire and good company.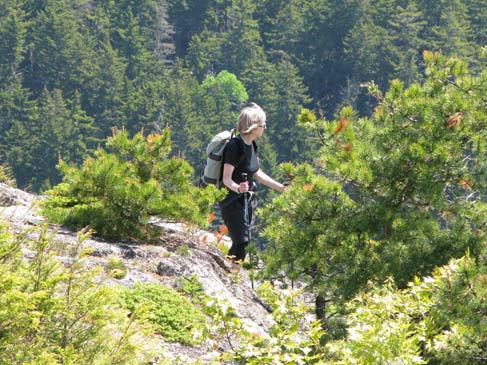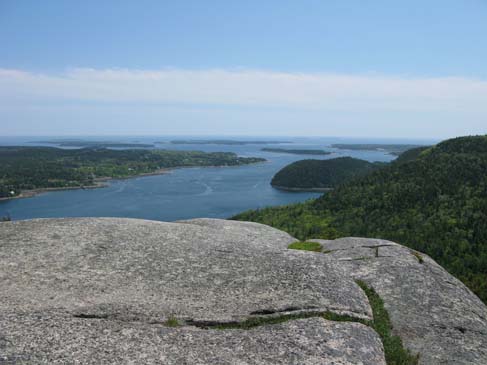 Saturday: We packed up the bikes and Sally was going to lead us on a morning ride on carriage roads. By the time we got to the parking lot, the clouds opened up and we were once again wet. We visited Jordan Pond House which was still closed, but we enjoyed the view of the pond and washing our hands in warm water in the rest room. Cheryl took advantage of hand dryers to dry her clothes.

We drove the Park Loop to see the sights while waiting for the weather to clear. It stopped raining and we had enough time for a short ride before meeting Sharon for an afternoon hike. She led us up Dorr Mountain for spectacular views. The fog rolling over the Porcupine Islands was a sight I will never forget. The hike down was a bit dicey after the rain, but it added to the interest.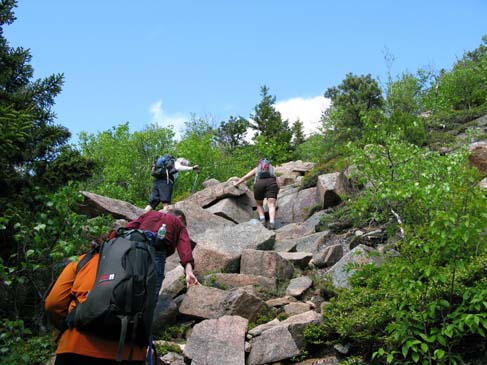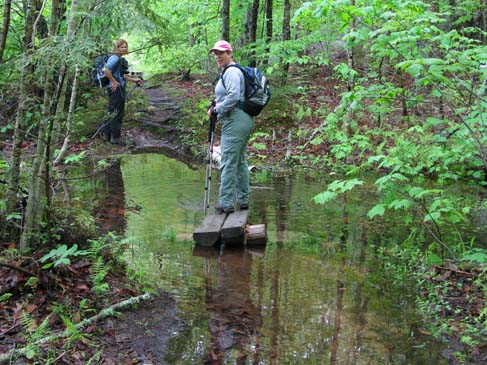 Sunday: In the morning, we woke to sunshine and Sharon met us and had planned another great day up Acadia Mountain. We were treated to views of Somes Sound and a peregrine falcon souring past us. Dave and I opted to explore the summit of a smaller mountain (St. Sauveur Mountain). We met a nice gentleman who was familiar with the trails and spots to get nice views.

We headed back to the campsite and I looked forward to a warm shower and a hairdryer! After all were showered and dry we decided to go for lobster at a lobster pound just outside of Bar Harbor. Food was tasty, but the "restaurant" was a screened patio. Brrr... Of course, being the hearty souls that we are, we then headed to Bar Harbor for shopping and ice cream!

We closed down Cadillac Mountain Sports, where I made a new friend... and bought a great banana guard. Back at the campsite, we had another great campfire.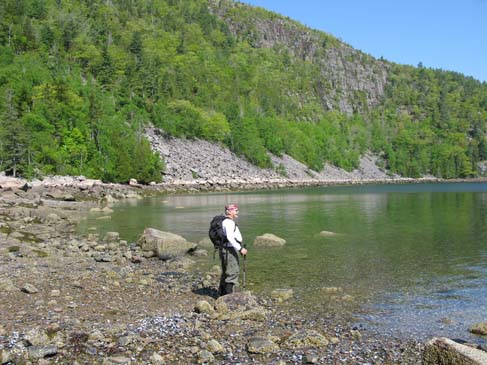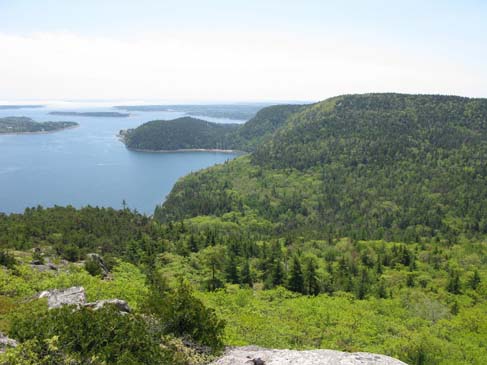 Monday: After a good night's sleep, we awoke to nippy temps. A few early risers witnessed the sunrise while the rest of us, well me, snored. I dragged myself out of the comfort of my warm sleeping bag to pack up and head home.

Nothing can compare to the beauty of Acadia and the company of SDHers! Thanks everyone for a good time.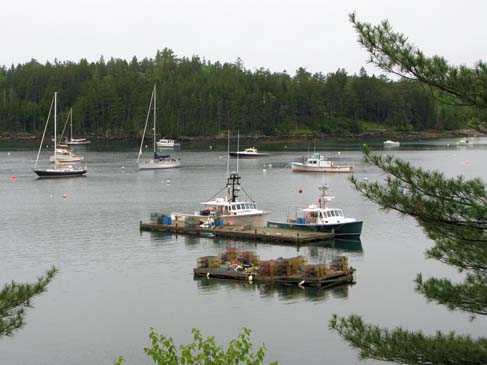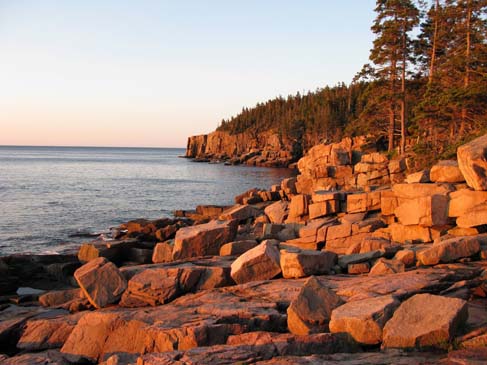 From Cheryl:

Friday: Getting there at a time when the rain let up so I was able to set up camp. Sitting by the fire with an awesome group of people and s'mores while discussing our plan of attack for the weekend.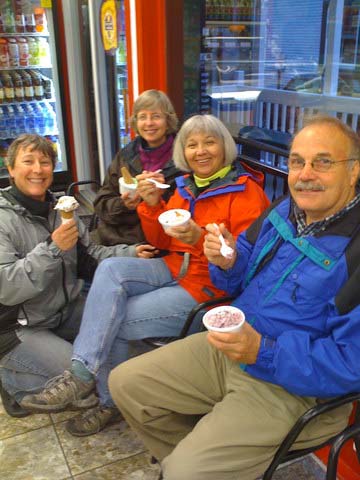 Saturday: Unanimously laughing at the rain with our bikes in tow and refusing to let it dampen our day.

Meeting Sharon with perfect weather on a very diverse trail which started under water and ended on Dorr Mountain with fantastic views of offshore islands under a blanket of fog.

Sunday: Perfectly planning an early start to beat the afternoon rain. Sharon again led us on a very interesting hike with several summits, an ocean waterfall and some nice rock climbing.

Rain began during our lobster feast and so we topped off the night with an ice cream and shopping trip to Bar Harbor.

Monday: Left camp at 0900 and headed for the falcons. Saw 25-day-old babies through the telescope prepared by some VERY enthusiastic rangers.

Walked on the ocean floor at low tide to Bar Island, then drove my truck over... just because I could :-)

While eating a lobster roll I noticed on a map, Cromwell Cove and Cromwell Harbor. Since that is my last name I had to go. With the help of google maps on my iphone, I trespassed through million dollar homes, climbed over rocky cliffs, and bushwhacked my way for about a total of 5 miles and was able to visit both points. Very private and very cool.

It was there I realized Mount Desert Island is the most beautiful place I have ever visited. I feel so honored and thankful to have this place so near. I deeply love this area.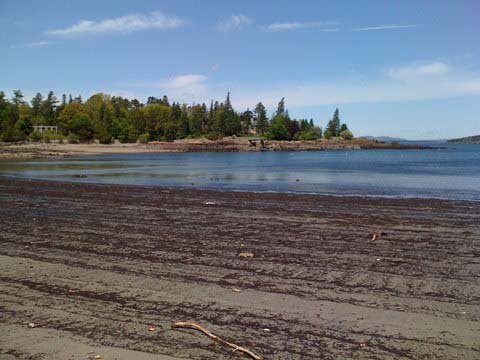 From Sharon:

Friday: Hiking to Hadlock Falls and seeing a huge waterfall whereas last year at this same spot all we saw was a trickle. Mark took another group photo so we now have "dry" vs. "wet" shots at that location.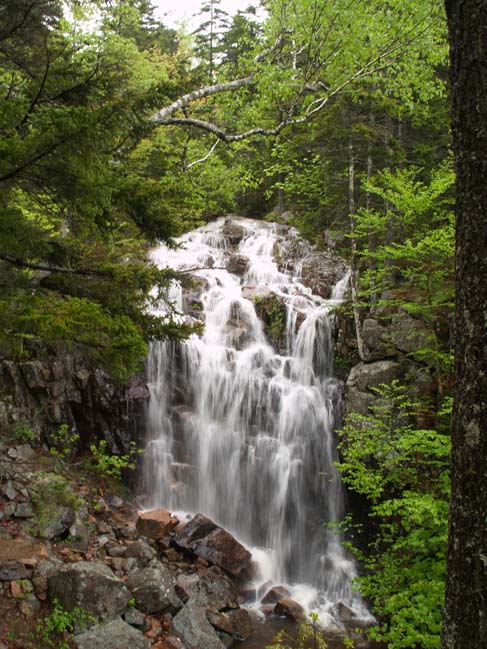 Saturday: Hiking on beautifully built trails with rock stairs running (usually) alongside streams and stepping "boulders" across the streams. The extra cool thing was that many of the rock stairs were underwater making the hike more adventurous and gorgeous and experiencing it in conditions that probably won't be repeated very often.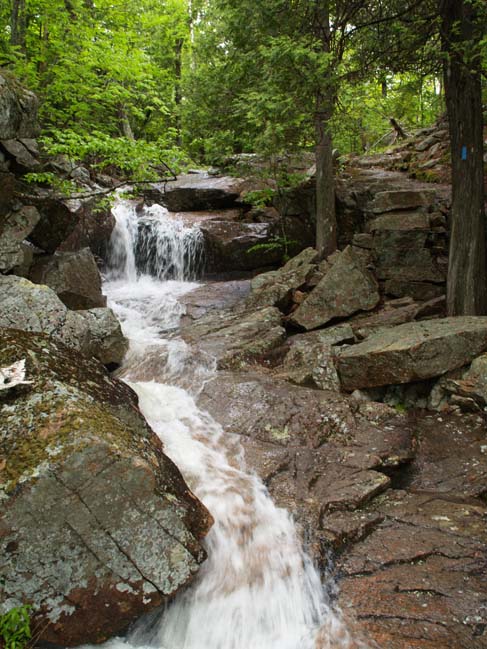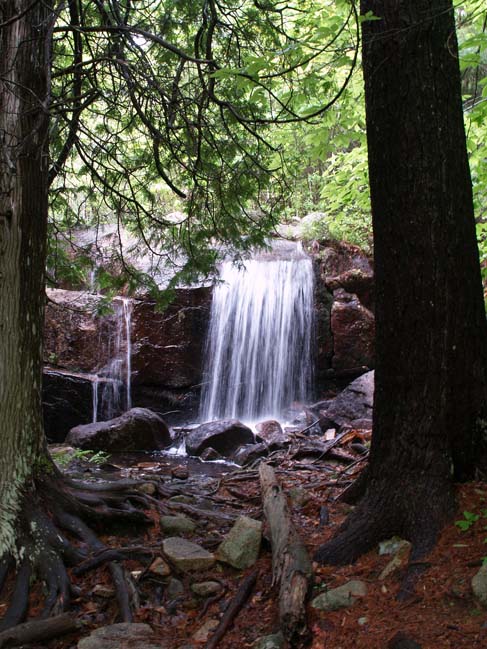 Sunday: Fun rock scrambling and awesome views on a four-summit hike: Flying Mountain, Valley Peak, Acadia Mountain, and St. Sauveur Mountain. I thought it was fitting that we hike the mountain to match the park's name. And seeing a waterfall empty directly into the ocean was pretty cool too.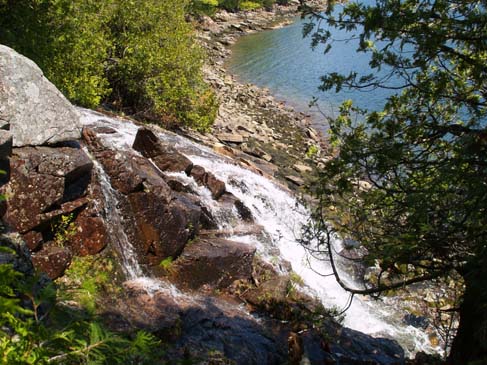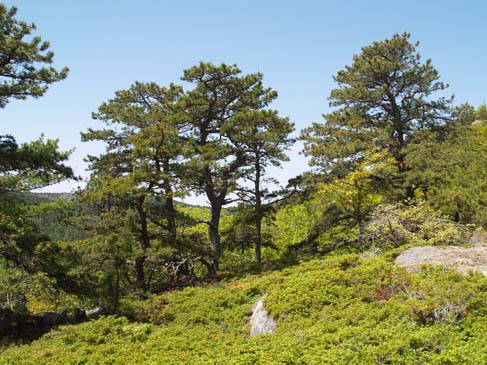 Monday: Awesome 360-degree views from the top of Schoodic Mountain (outside the park) with views of zillions of lakes and ponds and the ocean and mountains and... Mount Desert Island. A neat wide-perspective view of the park instead of seeing the mountains up close.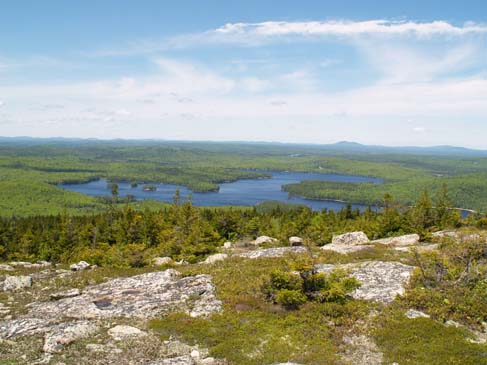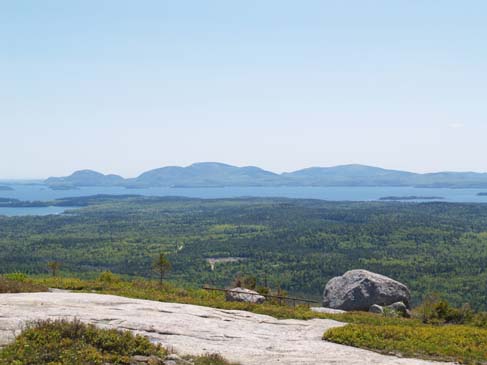 Tuesday: Three separate hikes: Bar Island (the same that Cheryl did, accessible only at low tide), Breakneck Ponds, and Ship Harbor. All fabulous but one of the highlights was the wildlife seen: a deer, a young fox, a porcupine, and a pileated woodpecker (those really big prehistoric-looking birds). Click for the detailed Ship Harbor Trail report.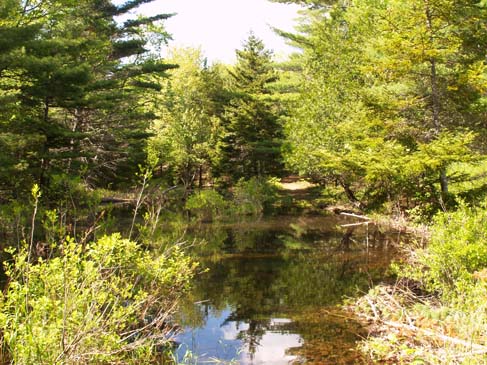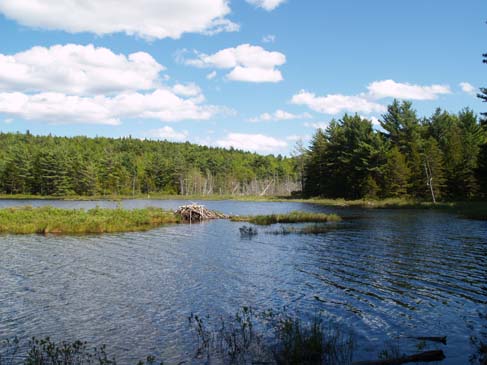 Wednesday: Arriving back in my home area just in time for Tai Chi class which loosened up all my sore muscles and left me feeling great and ready to tackle the Evans/Zealand hike on Saturday!

Great seeing you all! Thanks for the great company!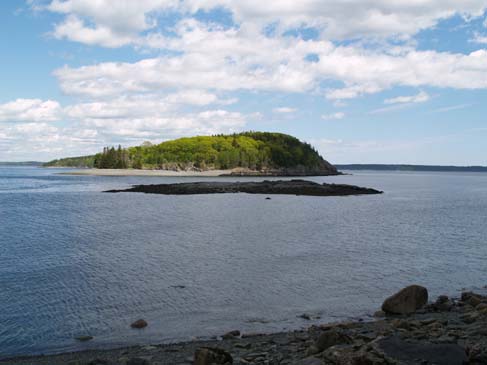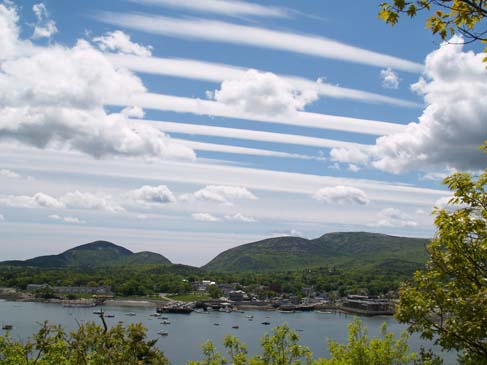 More Photos
Members may see more photos in our online photo album.