Acadia National Park, June 6-8, 2008
Preview
We will be camping at Blackwoods Campground at Acadia National Park.

If people want to bring bikes there's plenty of riding to do. They have miles of carriage roads (dirt roads, no cars), only shared by bikers, hikers and horses. There's also the park loop road which can be accessed from the campground. The only problem is it's a one way even for bikes. If the park patrol catches you going the wrong way you'll have to turn around. If you don't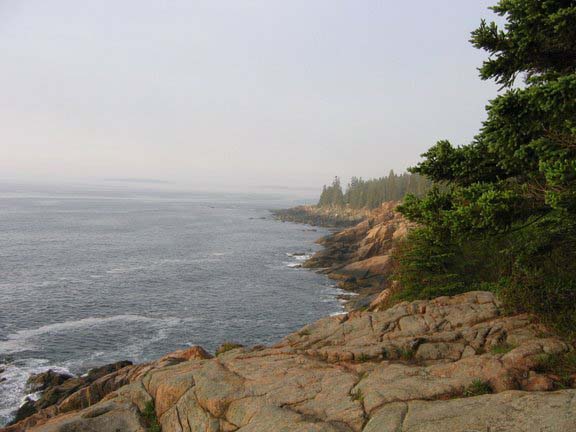 have a bike they can be rented in town. We may be able to sneak from the campground at night down to Thunder hole on the loop road. There's also watching the sunset from Cadillac Mountain, you drive to the top maybe go into Bar Harbor and walk around, they have a nice ice cream and chocolate place.

I'm thinking of a small hike Friday afternoon around 2:00 if everyone's there. There's a small parking area at Fabbri picnic area then we can walk along the ocean to Sand Beach then climb the Beehive and go back over Gorham Mountain, maybe even do the Great Loop trail across the sand beach. Saturday maybe we can decide on a group hike, then at night drinks around the campfire. Sunday, whoever is leaving, we can pack up and explore the park loop and the island.

NEXT HIKE: June 6-8, Acadia National Park
MEETING SPOT: Blackwoods Campground
HIKE LEADER: Dennis Marchand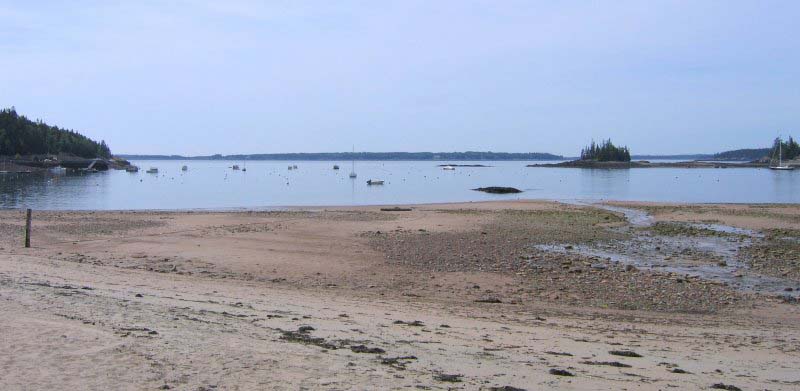 Trail Report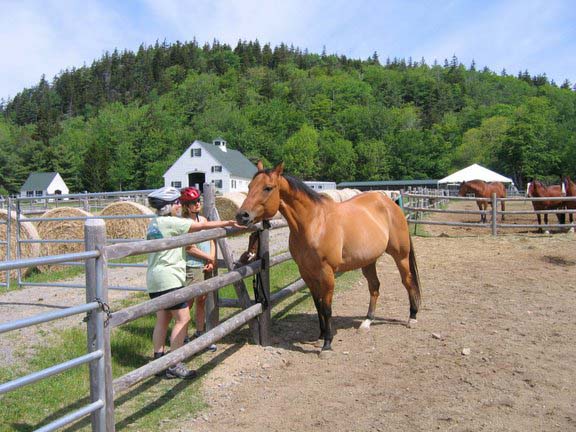 From Diane:

I have to say on behalf of all who attended, a mighty big "Thank You" to Dennis and Kristin for making arrangements and having a tentative game plan to help us get out and see lots of sights. They chose the perfect time of year. Most of us brought bikes and it was a treat to get onto the carriage roads and explore ponds and lakes and pet horses at the Wildwoods Stable and have the beauty of nature without the traffic distractions. Other things we pondered:


Mark at the Doria-Stevens campire will cook up for you anything you've got.
You can never bring too many plastic tubs.
Donna employs "campers on call".
Don't drive your limo over 15 mph in the park.
Tofu Pups should "accidentally" be dropped into the fire as often as possible and take a really long time to burn.
Sharon is just plain smart - who needs the cold/damp ground anyway?
When it comes to kiddie cones - don't mess with Kristin and Deb.
You might not have the best cut of steak if even the wild animals won't pick at it when you leave it out all night.
Driving with Deb amd Diane may not be hazardous to your health but it could take you a REALLY long time to get where you're going.
Beans - they're not just for dinner?
Some men have better legs than women - and "we" don't like that.
A 4-minute shower isn't enough.
Don't walk directly over a blow hole (unless you didn't bring enough quarters).
There is no sense foregoing a pedicure just cause you're going camping.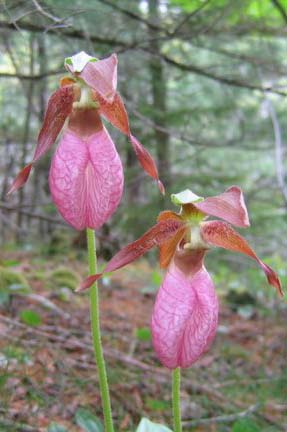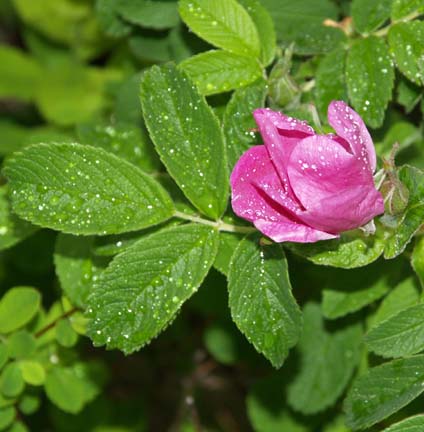 And here is Dennis' report on the weekend:

The weather didn't look too promising driving up for camping, raining most of the way. The Gods were just toying with the twelve of us. It finally stopped before we got there so setting up was fine; it wasn't even wet. Six of us got up there early enough to take a nice walk/hike Friday. We drove near the park loop road and walked along the ocean path about 2.5 miles to the sand beach stopping numerous times for photo ops.

The coastline here is fantastic. We timed it just right for wildflowers blooming everywhere. The big stop was at Thunder Hole, a small cave carved out by the pounding ocean. When the tide is right the waves come in and whoosh bam boom. It makes a thunder sound and water goes every where. Of course if you're standing in just the right spot, like four of us dummies did, you get a big-time bath. Now we have to finish our hike all wet, luckily we all had rain jackets on from an earlier shower or we'd be even wetter. Lots of laughs for anyone watching.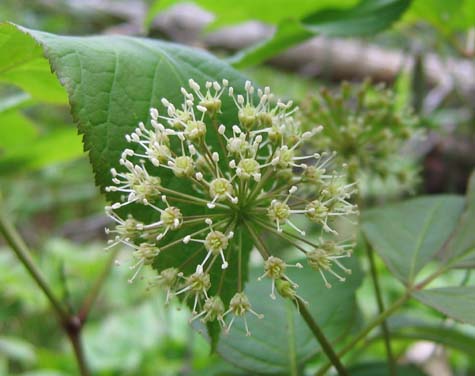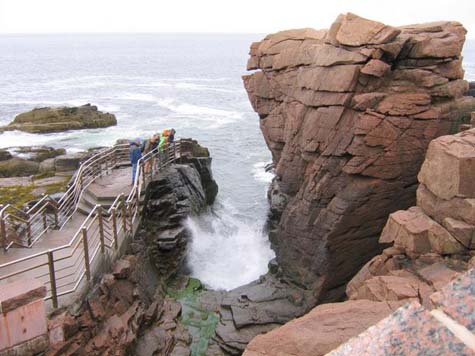 After getting to Sand Beach we hiked up the Beehive, a 500-something-foot tall mound almost straight up. It does have some iron rungs embedded into the rocks to help hikers get up the very steep part. You either love this stuff or don't. We hiked out the back side to a small pond then over Gorham Mountain which was a nice ridge walk.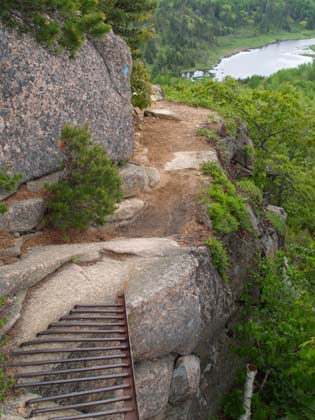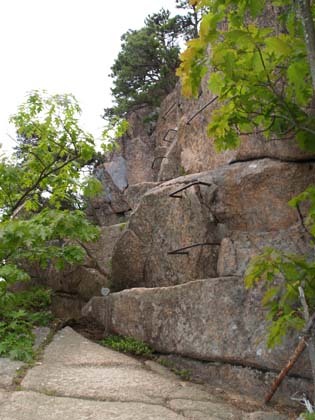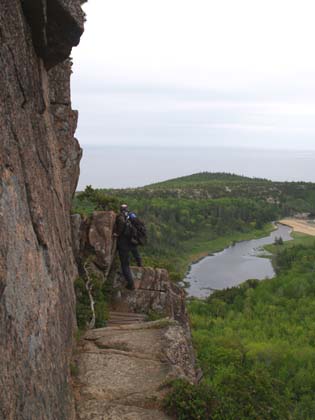 The hiking in Acadia is fantastic, nothing too high but all above treeline walking over rock. The views were everywhere. I haven't found a bad trail yet.

Friday night at the campfire, laughing and reminiscing. Friday night was very cold - where's that heat wave? It wasn't bad for Sharon though, she stayed in a motel. If we do this again that's an option for people who don't like camping.

Saturday we did a group hike up Sargent Mountain over four peaks. It sounds like a lot but Sargent Mountain, the tallest, is only 1300 feet. Most of the trail was all open with views almost every step of the way.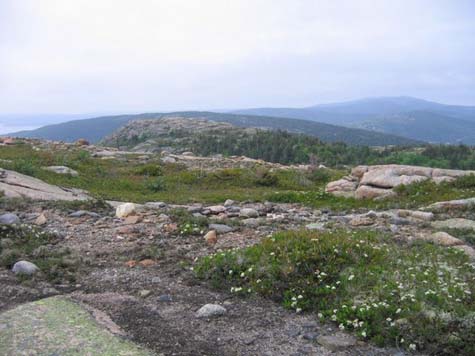 Back at camp some of us went out for dinner in Bar Harbor then went to Cadillac Mountain to watch the sunset. The only mountain where you can watch the sunrise on one side looking over the ocean and at night watch the sunset on the other. While up there we watched a couple get married as the sun sets, pretty cool.

Sunday we packed up and some went for a bike ride around a lake on one of the many carriage roads. Back home to the heat. This was a great time of year to go, hardly any bugs and no crowds. We had six sites and there was nobody around us. Not much traffic on the loop road or the trails.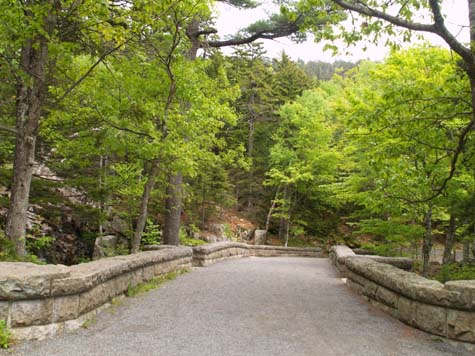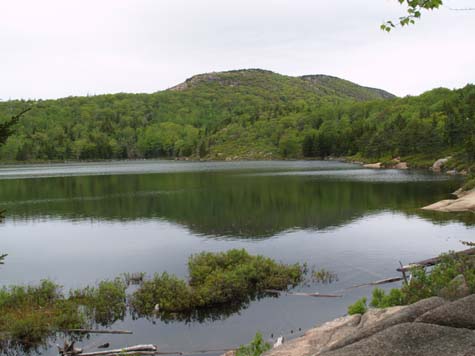 More Photos
Members may see more photos in our online photo album.